Chismars' 50th anniversary observed Aug. 3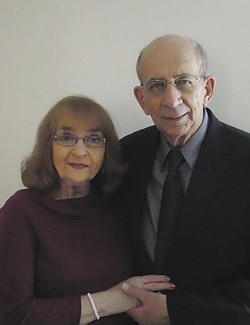 Photo
Mr. and Mrs. John Chismar
BOARDMAN
John and Elizabeth Chismar of Boardman marked their 50th wedding anniversary with a dinner Aug. 3 at Rachel's in Austintown with family and friends.
Invitations were issued.
It was hosted by their children: Lisa (Kevin) O'Brien of Columbus and John (Kathy) Chismar of Upper Arlington, Ohio.
They have three grandsons, Jason O'Brien and Alex and Peter Chismar
Mr. Chismar married the former Elizabeth Naples on Aug. 1, 1964, at St. Francis of Assisi Church in Youngstown.
The couple are members of St. Charles Church.
Mrs. Chismar retired in 2001 from Gorant Candies, where she was an associate. She is a member of St. Charles Garden Club and Nursing Home Ministries.
Her husband retired in 2004 from R.L. Lipton Distributing, where he had been a sales representative. He is an altar server and eucharistic minister at the church and is a U.S. Army veteran who served in Korea from 1962 to 1964.