SmartPark mulls Springfield Township site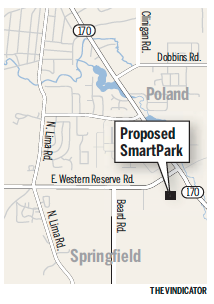 ---
YOUNGSTOWN
An 80-acre Springfield Township site is a prime location for a proposed SmartPark, which could provide 1,000 jobs associated with 3-D manufacturing in 15 buildings, a development consultant says.
SmartPark is an emerging Valley industry plan coming on the coattails of the 3-D manufacturing center in downtown Youngstown. SmartPark was debuted publicly in July at a Brookings Institution discussion on manufacturing.
But details have been sparse, and Thursday's county discussion on a possible site offered a deeper look.
"This entails 15 innovation centers for the development, design and engineering for the 3-D printing industry," the development consultant, Greg Brooks, president of ICN Construction Methods Inc. of New Middletown, wrote in an Aug. 1 letter to Robert T. Orr, Springfield Township trustee.
Three-dimensional printing is the additive-manufacturing process that makes products by adding layers of material.
The Springfield site, which already has available electric, gas and water utilities, is the former Barth Farms location on the southwest corner of state Route 170 and Western Reserve Road.
It lacks one thing, however: immediate sanitary-sewer access.
Brooks, whose company was commissioned by SmartPark to seek a site for its business park, and Orr discussed the site and the need for sewer service to it with the Mahoning County commissioners in a Thursday staff meeting.
"This is a totally outside-the-box type of economic development that's fresh and new and has real potential," Orr told the commissioners.
David Ditzler, chairman of the commissioners, suggested Brooks obtain from SmartPark officials more-detailed information concerning the park's needs that could be provided to the county sanitary engineering department.
Bill Coleman, office manager in the sanitary engineer's office, said the earliest sanitary-sewer service likely could be made available to the site would be between late 2015 and the middle of 2016.
A nearby sewer running to the Struthers sewage treatment plant can't be used because flooding in Poland puts too much rainwater into the sewer, thereby limiting that plant's ability to take on new flow, Coleman said.
The county is preparing to close its New Middletown Sewage Treatment plant and divert its flow to the Boardman Sewage Treatment Plant.
Because of the area's rolling terrain, any sewer connection taking SmartPark's sewage to Boardman likely would require use of pumping facilities and likely could not rely entirely on gravity, Coleman said.
The Springfield site is desirable because it has good access to Interstate 680, America Makes in downtown Youngstown, Youngstown State University and the Greater Pittsburgh International and Youngstown-Warren Regional airports, said Brooks, who lives in Springfield Township.
"Springfield Township has relatively low taxes. I think that'll be an attraction," Orr said. "I think it's a good place that people will want to come to raise their kids in Poland and Springfield townships," he added.
Brooks said he recently has been in discussions with leaders of the SmartPark project, who Brooks said consider the Springfield site "an area of high interest for development along with others in the Mahoning and Trumbull county area."
Brooks said he believes the Springfield location "is probably the best-suited site for this project" because all the land is contiguous and "close to being shovel-ready."
The development consultant added: "The SmartPark project hopes to break ground in the near future. If the property cannot have the required sewer access, it will then be crossed off the list of potential development areas."
The success of America Makes in downtown Youngstown has led to plans for the proposed SmartPark, a 21st-century business park, which would be in the Mahoning Valley, Mike Garvey, president of M-7 Technologies, a Youngstown-based manufacturing company, said during a recent Brookings Institution panel discussion in Washington, D.C.
America Makes, formerly known as the National Additive Manufacturing Innovation Institute, is the first manufacturing hub set up by President Barack Obama's National Network for Manufacturing Innovation.
The 15 SmartPark centers would be populated primarily by people working for Fortune 500 companies, Garvey said.
"It's one of several sites we're considering. Without water and sewer, we can't get there," Garvey said of the Springfield site Thursday.
He declined to disclose how many Mahoning Valley sites are under consideration for the SmartPark or what it would cost to build it.