Scientific tool unleashed 23 years ago now links us all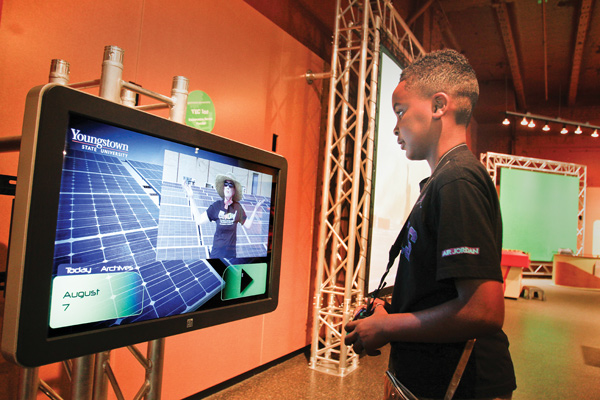 ---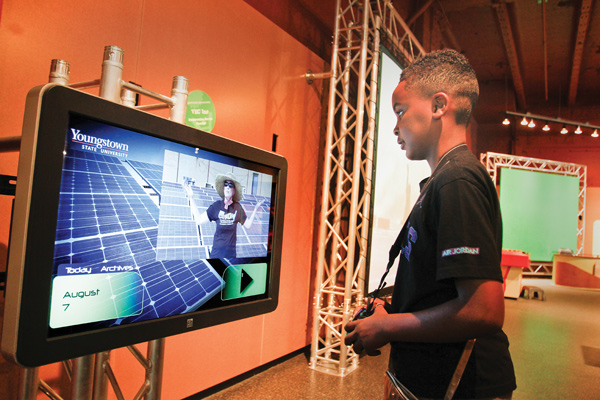 Photo
Demar Clark, 11, of Youngstown watches a solar-power energy graphic showing panels atop a Youngstown State University building that provide electricity. The graphic also charts how much is produced at any given hour. Thanks to the Internet, Demar gets to watch the progress from a mile away at the OH WOW! science and technology center in downtown Youngstown.
By JORDYN GRZELEWSKI
and EMMALEE C. TORISK
news@vindy.com
YOUNGSTOWN
Mike McKitrickdoesn't own a smartphone.
He doesn't have a computer either.
The 41-year-old can remember the days when typing a paper meant turning to a typewriter or to a word processor, and when knowing how to navigate a library's card catalog system was essential for doing research.
Now, you can "just go on the Internet and look it up."
"It's better that things are faster and easier, but I miss the personal interaction," said McKitrick, a former area resident who now lives in Minnesota. He was visiting OH WOW! The Roger & Gloria Jones Children's Center for Science & Technology in downtown Youngstown on Thursday afternoon.
McKitrick's musings on technology — he admitted to being slightly "behind the times" — come within days of the anniversary of the World Wide Web's public introduction, which happened 23 years ago this week.
On Aug. 6, 1991, British computer scientist Tim Berners-Lee — who had introduced the concept of the Internet to his colleagues in a March 12, 1989, proposal — gave people outside of CERN, the European Organization for Nuclear Research, access to the World Wide Web for the very first time.
McKitrick, for one, didn't necessarily foresee the sweeping changes that would occur as a result of the Internet's creation. He recalls only "bits and pieces" of its development, including the advent of email.
It wasn't a sudden change, he added.
Katie Seminara, the 30-year-old assistant manager of OH WOW!, had a similar experience.
In many ways, she grew up alongside the Internet. As a student in junior high, she learned how to use Google. As a high school sophomore, she started to send emails — which she thought "was the greatest thing." As a college sophomore, she received her first introduction to Facebook.
She'd just returned home from studying abroad and relied on Facebook to keep in touch with people she'd met while traveling.
"It made life extremely easy," Seminara said.
At OH WOW!, which operates as a nonprofit organization, the Internet is an integral tool.
Seminara explained that the Internet helps OH WOW! to get its "mission out there," by way of social media and its website. It also allows staff access to additional educational materials.
At least one exhibit at the center — the solar energy display — even incorporates the Internet, allowing visitors to track the amount of energy produced from solar panels installed on a building's roof at Youngstown State University.
As for the future, Seminara can visualize the Internet's helping to create a stronger connection between OH WOW! and the public it serves, even when they're not physically there. One way to do that, she added, is through the development of applications.
"We always want to be in the palm of somebody's hand," Seminara said, "and the Internet will allow us to do that."
Thanks to the Internet, the public library, too, "literally never closes," said Heidi M. Daniel, director of the Public Library of Youngstown & Mahoning County. Patrons can stream an album, access an e-book and have reference questions answered 24/7 from the comfort of their homes and from their own devices.
Daniel, 38, said the Internet has had a major impact on the library industry, and has brought with it both opportunities and challenges. The Internet has led to the library's changing its services and how they're offered, for example.
It also has caused people like Daniel to become increasingly concerned with "making sure people are able to access [the Internet]," regardless of factors such as income level. The PLYMC first offered public-access computers in 1996 and had just eight. Now, it has 271 and also offers Wi-Fi in its buildings.
Daniel doesn't see print resources disappearing from local libraries anytime soon, however. A recent survey of patrons showed that they still consider books to be the most valuable of the library's goods.
"You have to balance [offering technology services] with our traditional users who want our traditional services," she said.
Lee Yi is the founder of the Boardman-based Drund, a private mobile application used to increase communication among schools, parents, teachers and students. He called the Internet an essential good that everyone should have, even likening it to water.
The Internet is a utility, not an option, said Yi, 39. A lack of access, then, cuts people off from things. But for those with access, the Internet, especially with the prevalence of Wi-Fi, is something that constantly surrounds them.
"It's always on," Yi explained. "You're not trying to drag this wire, click this button and hope it connects. You wake up in the morning, [and] you're connected."
Contributor: Staff writer Robert Connelly