Poland library hosts Creepy Crawly Critters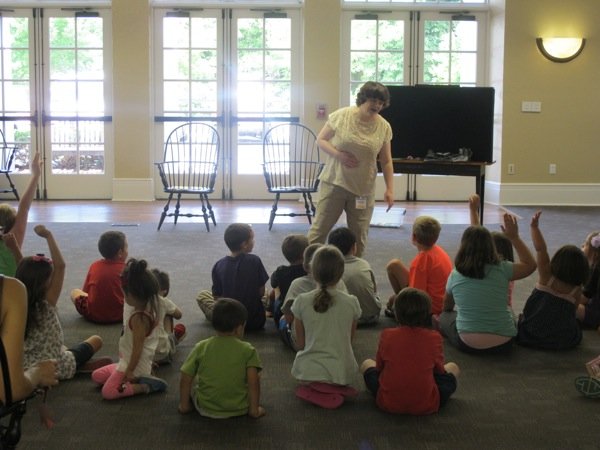 ---
By TIM CLEVELAND
As part of its summer Fizz, Boom, Read program dealing with science, Poland library did an event on July 24 called Creepy Crawly Critters dealing with bugs and insects.
"Science is the theme for summer reading, and we are doing bugs today," assistant superintendent and youth programs librarian Amanda Kollar said. "It's always a popular topic. Just wanted to have a fun bug program.
"We're going to talk about some bugs, learn some bug facts. We're going to play some games, hear some bug stories and do some bug crafts."
More than 20 children and an almost equal number of parents and grandparents attended the event.
Among the crafts were making creepy fly masks, using string, crayons and paper masks, and having the children create their own bugs, such as lady bugs, bumblebees or spiders, out of paper plates, glue, crayons and pieces of colored paper.
Preslie Bodine of Poland attended the event. She said she wanted to attend the event because she likes the stories. She added that she was looking forward to making a bug, but she wasn't sure which kind of bug she wanted to make.
Kollar was asked to name some bug facts that people may not have been aware of.
"We're going to talk about how not all bugs are insects," she said. "Insects are a certain kind of bug, they have a certain amount of legs, it has the head, the abdomen. Some neat bug facts, like only female mosquitos bite. Different things like that."
Kollar said she hoped that sparking an interest in bugs would prompt the children to read books to learn more about the subject.
"Hopefully they will get to learn some factual information about bugs and hopefully they will want to check out some bug stories and just have fun at the library and help keep wanting to come back and find out information on their own through all the different books and materials that we have," she said.