ALDI re-opens after $1 million remodel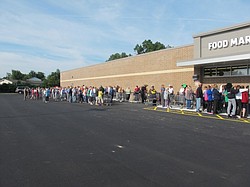 Photo
Neighbors | Tim Cleveland.A crowd of approximately 200 people lined up well in advance of the ribbon cutting to re-open the ALDI store on Mahoning Ave.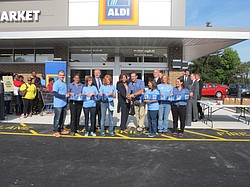 Photo
Neighbors | Tim Cleveland.The ALDI employees and management who participated in the ribbon cutting ceremy for the store's re-opening were, from left, store associate Paul Krpicak, shift manager Sheila Danko, store associate Courtney Harker, vice-president of ALDI Northern Ohio Corey Stucker, shift manager Cheryl Evans, district manager Geena Morocco, store manager Rob Adams, store associate Lori Bosiljcic, director of operations Jason Byler, store associate Debbie Carella and shift manager Jill Burton.
By TIM CLEVELAND
As part of an effort to combat nearby competitors Giant Eagle and Walmart, the ALDI Food Market location at 5863 Mahoning Ave. spent $1 million remodeling to expand and keep pace with its rivals.
The store expanded from 15,000 to 18,000 square feet, with an added aisle, and a new ceiling that replaced the old tiles.
"We've operated here for close to 20 years," Vice president of ALDI Northern Ohio Corey Stucker said. "When you've been somewhere for 20 years, you always want to keep fresh for the customers and give them what they're looking for. We keep expanding our product line. We have over 70 fresh produce items. We've been adding organic products to our store. This gives us an opportunity to better present those products in our stores."
A crowd of more than 200 people lined up at the store well before the 9 a.m. ribbon cutting and re-opening. The first 100 in line received a golden ticket, each containing a prize, including ALDI gift certificates, a food product or an opportunity to participate in a grocery grab, in which they have 90 seconds to procure as many products on a grocery list as they can.
Two of the winners were Sandra Pinkston of Youngstown and Pastor Lawrence Ross of Boardman. Pinkston won the top prize, a $100 gift certificate, while Ross won a $25 gift certificate.
"I'm ecstatic, I'm ecstatic," Pinkston said. "I never dreamed I would win this."
Pinkston said she shops at the ALDI stores in Austintown, Youngstown and Boardman and she enjoys the prices at the store the most.
"Great feeling," said Ross, who waited two hours in line before the opening. "It's nice that they gave out gift certificates to people. It was a very nice morning."
ALDI has been in business since the late 1970s. The company has 1,300 stores in 32 states and is opening approximately 100 new stores per year.
Stucker said the Mahoning Ave. location is one the company will stay at for a long time.
"It's been a great location for us," he said. "With this expansion, we plan on being here for a lot longer. It's a great location. Customers love us here. The manager's been here for a long time, as well. This is a good opportunity for us to expand our store and upgrade our store."