Youngstown band students marching to new beat
By DENISE DICK
denise_dick@vindy.com
YOUNGSTOWN
"Band, ten-hut!" shouts Shawn Marko, the new director of instrumental music for Youngstown City Schools.
Youngstown Band Camp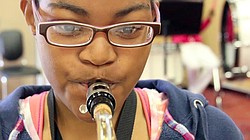 Video
Band Camp got underway for students in Youngstown.
"One, two!" the young musicians call back.
"Start the drum roll," Marko directs.
NaQuaisia Redd, 16, a sophomore at East High School, obliges, striking her sticks on the snare drum. Students in eighth through 12th grade from throughout the district are participating in the summer band camp at the Chaney Campus through this week and next, preparing for the marching band season.
Jah-Nice Berry, 16, a junior at Youngstown Early College, joins in, crashing the cymbals, and Joe McGraw, 14, an eighth-grader at East High School, pounds the bass drum.
About 30 students are involved so far, but Marko, who previously taught at Stambaugh Charter Academy and the Mathews and Warren city school districts, hopes more students sign up as the school year progresses.
"There was a really nice sound," he tells them.
Marko switches from trumpet to flute to baritone as he leads the students through rehearsals of "The East High School Alma Mater," "Soul Finger" and "The Star-Spangled Banner."
He moves from percussion to woodwind and on to brass, working through more-challenging parts of the music with them.
"This is called rehearsal," he encourages. "You should be proud of yourselves that you're willing to rehearse."
This marks NaQuaisia's second year in band, but her first year in marching band. She's enjoying band camp.
"It's fun and it's challenging," NaQuaisia said.
Jah-Nice started playing bass drum three years ago and picked up cymbals two years ago.
"I like the sound of the drum," she said. "I like the way it keeps everything together."
Joe, also in his third year of band, selected drums because he appreciates the sound. He hasn't started marching yet but is looking forward to traveling with the band.
Aisha Williams, 13, an eighth-grader at Rayen Early College Middle School, started playing saxophone four years ago because her great-grandfather played. He gave her his instrument but heard her play only once before he died. She loves it.
Jabrell Walker, 16, a junior at Youngstown Early College, started playing trombone eight years ago. This is his third year in marching band.
Jabrell's fourth-grade teacher picked trombone for him and it stuck.
"I like the power of it," he said.
The Youngstown City-Wide Marching Band makes its 2014 debut Aug. 28 at Lakeside High School in Ashtabula. The band takes to the Rayen Stadium field Sept. 5 for the first time under Marko's direction.
Marko, a Warren native and graduate of Warren G. Harding High School, enjoyed marching band as a student and wanted to bring that to other students.
"There's nothing more rewarding than to be able to teach something and be able to see it come back to you," he said.
That's an advantage that music and art teachers in general have over teachers of core subjects, who have to wait to see test results to determine if what they are teaching is resonating with students, Marko said.
"We see it immediately," he said. "It's immediate gratification when it clicks and they get it and the light bulb goes on. There's nothing like the reward you get from it."