Garden at St. Catherine Church is a work in progress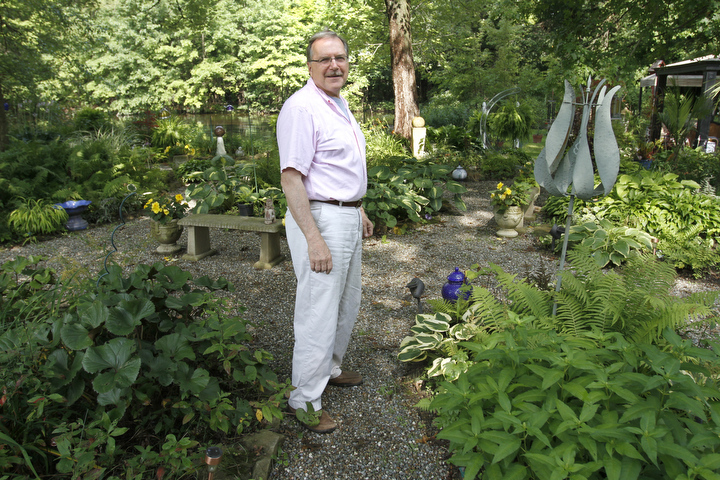 ---
Garden at St. Catherine Church is a work in progress
By LINDA M. LINONIS
LAKE MILTON
St. Catherine garden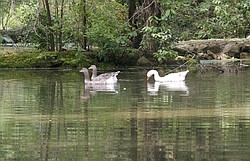 Gallery
Rev. David W. Merzweiler of St. James Church in North Jackson renovated a grassy backyard into a garden where church members are able to enjoy the eye-catching garden.
The Bible says there was an abundance of life in the Garden of Eden.
That legacy grows in an expansive garden at St. Catherine Church, where life abounds in the form of plants, bees, flying squirrels, chipmunks, geese and four peacocks.
The church at 1254 Grandview Road makes up Our Lady of the Lakes Parish with St. James Church in North Jackson. The Rev. David W. Merzweiler is pastor and gardener. The priest of 37 years grew up in a gardening family.
Pastor Dave, as he is called, has lived at St. Catherine rectory for 25 years. When he arrived, there was a backyard of grass. The garden
started around a statue of the Blessed Virgin, which remains, but has been joined by plenty of plants.
Pastor Dave said he has green hostas that came from his mother's house. "I love working in the garden ... getting my hands in the dirt." He said he appreciates the imagery of God forming man out of clay. "There's a sense of balance. ... In a garden, we're in touch with what we're made of ... spiritually and physically."
The garden offers various seating areas where visitors can appreciate his labors. A pavilion, which sits on a 10-by-12-foot deck he built, provides space for chairs and a loveseat. The pavilion is the setting for an outdoor Mass at 9 a.m. Tuesdays followed by Bible study.
Pastor Dave said a friend, the late John Johnson, who worked at Stan Hywet Hall and Gardens in Akron, "had an eye for placement." Johnson was the idea person, while Pastor Dave did the work.
That arrangement flourished into an eye-catching garden. Raised planting beds with rock borders surround all the trees but one. "I hauled in rocks to make those," Pastor Dave said. The raised beds, he added, provide a container for good soil. Paths of pea gravel wind around the garden.
A statue of St. Francis of Assisi welcomes visitors at one entrance to the garden where there also is a stone cross. A path, bordered with knock-out roses, leads in from another direction. Sound effects are added by katydids, wild bird calls and black-shoulder peacocks in an enclosure. Pastor Dave, a beekeeper for some 40 years, also has hives near the garden.
He emphasized the garden "is a work in progress" and that he's always weeding, clipping or planting. He said between 10 to 15 kinds of day lilies bloom, and there are Japanese maples and some 30 varieties of hostas.
Tiger lilies, transplanted from his mother's former garden, also have a place. A slate sign proclaims "Gwen's Garden," a tribute to the legacy of gardening from Pastor Dave's mother.
Plenty of perennials bloom throughout the growing season. They're augmented by plants in large pots that include varieties of coleus with leaves of different colors. "This helps keep color throughout the summer," Pastor Dave said, noting there is usually something blooming. Right now, that includes phlox, black-eyed Susans and cone flowers. "There's something in every place," he said.
Pastor Dave said he looks forward to hellebores, which bloom in the spring. After that, it's a parade of petals of various colors and sizes. The garden also includes tropical hibiscus in yellow, red and pink; astilbe in red, white and pink; Solomon's seal; and an array of ferns. Pastor Dave said he hopes to add some bluebells.
Blue and white pots for plants and other blue "garden art" objects offer an aura of cohesiveness. Teapots in many colors are displayed on hangers throughout the garden. Those are a sign of hospitality, Pastor Dave said, adding that church members stop by and help out in the garden then share some tea or coffee with the pastor.
Church members and friends also exchange plants. "A garden is unique ... it's an opportunity to pay attention to and share with people and it provides a place for a time apart," Pastor Dave said. "Working in the garden is rejuvenating and refreshing."
Statues of angels, rabbits and dogs peek out from under and around plants, and gazing globes twinkle in the sunlight. Four fountains add the soothing sound of running water in the garden.