Castillo's sacrifice fly lifts Scrappers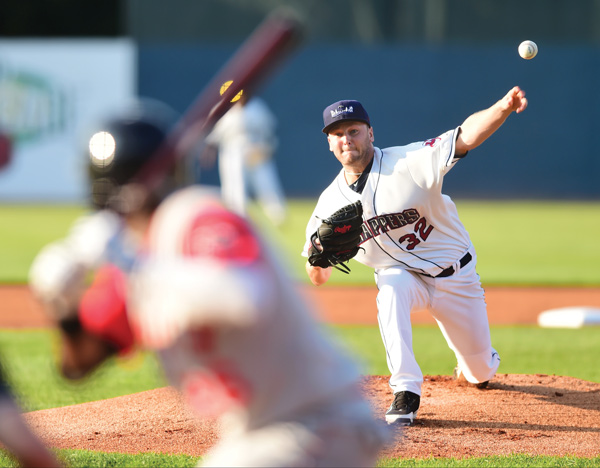 Photo
Scrappers starting pitcher Nick Maronde works the mound against Brooklyn Cyclone batter John Mora in the first inning of Wednesday's game at Eastwood Field in Niles. The Scrappers won 2-1 on a sacrifice fly by first baseman Leo Castillo in the 12th inning.
By Steve Ruman
NILES
In an era where power hitting and home runs grab all of the headlines and highlights, the Mahoning Scrappers proved there is still a place in the game for small ball.
The Scrappers on Wednesday turned a Leo Castillo sacrifice fly into a 12-inning, 2-1 win over Brooklyn in front of 3,403 fans at Eastwood Field.
The win, combined with the Brooklyn loss, moves the Scrappers (23-29) to just four games behind the Cyclones and Connecticut in the wild card chase of the New York-Penn League.
Castillo's heroics capped off a pitchers duel which saw the two teams combine to use 10 hurlers.
Mahoning Valley scored the game's first run in the seventh inning without the benefit of a base hit. Tyler Murphy walked with one out, advanced to second on a D'Vone McClure walk, moved to third on a groundout, then scored on a wild pitch.
Brooklyn quickly answered in the eighth when a John Mora two-out double plated Adrian Abreu to tie the game 1-1.
The contest remained deadlocked until Castillo came through with his team-high 32nd RBI. Yonathan Mendoza walked to start the bottom of 12th, then advanced to second on a wild pitch. Greg Allen attempted to move Mendoza to third with a sacrifice bunt, but instead reached on an infield single.
The Cyclones intentionally walked Steven Patterson to load the bases. That's when Castillo logged what he said was his first-ever walk-off win in his career.
"Never done it at any level, it feels good," Castillo said. "With the bases loaded and no outs, I knew they had to come at me so I was just looking for something over the plate. I wanted to make contact and get the ball far enough out to score the runner."
Castillo said that despite some early struggles, he believes the Scrappers are primed to make a strong run down the stretch.
"We've come together, we're playing good right now," Castillo said.
Wednesday's game featured the Scrappers debut of pitcher Nick Maronde, who started and worked a pair of scoreless innings. Maronde gave up just one hit and recorded a strikeout.
Maronde was acquired by the Cleveland Indians on July 12 in a trade for cash considerations from the Los Angeles Angels. The 24-year-old lefty was on the Angels' opening-day roster and was used strictly as a situational reliever. He was sent to Triple-A Salt Lake in early April and was called up 10 days later before being returned to Salt Lake in early May.
In 11 relief appearances this season at the Major League level, Maronde pitched 6 1/3 innings and gave up 12 hits and nine earned runs, a 12.79 ERA. In 33 big-league games, he has no record with a 7.13 ERA.
"A fresh start is always good. It can't hurt," Maronde said. "I'm just glad to get picked up and come here where someone wanted me. I'm excited to be over here and excited to get going."
"I just want to get back to how I was pitching in 2012 and the rest will take care of itself."
A native of Lexington, Kentucky, Maronde played three years at the University of Florida. He was drafted by the Angels in the third round (104th overall) of the 2011 draft.