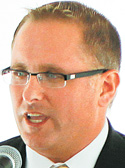 ---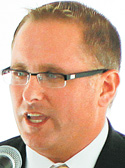 Photo
Jim Davis, Austintown trustee
By ROBERT CONNELLY
AUSTINTOWN
Hollywood Gaming at Mahoning Valley Race Course officially opens its doors Sept. 17.
Penn National, parent company of Hollywood Gaming, made the announcement Wednesday afternoon, six weeks from the opening of the racino's casino section. Bob Tenenbaum, spokesman for Penn National, said a time has not been determined for that day.
He added, "It certainly finalizes everything. I think it tells people that it's time to start thinking of this project as done."
The racino has been operating under a temporary license from the Ohio Lottery Commission that was granted June 11. Danielle Frizzi-Babb, a spokeswoman for the commission, explained that allowed the racino to make hires, lay out its floor and do other things, except make sales.
"They will have their operating license in hand when the doors open," she said.
Tenenbaum said Hollywood Gaming will host a controlled demonstration a few days before opening with a list of invited guests. Staff and representatives from the lottery commission will be there that day to make sure everything runs smoothly. All proceeds from that night will be donated to area charities, yet to be determined.
In the weeks leading up to the opening, construction is ongoing at the 190-acre site off state Route 46 close to the Interstate 80 interchange. Penn National has invested $250 million into the project that will feature 850 video lottery terminals and more than 1,000 indoor seats for horse racing. An upstairs sports bar, Skybox Sports Bar, will feature "fine dining" options, Tenenbaum said.
Up until opening, Tenenbaum said, it's "finishing work rather than major construction."
Since horse racing does not begin until Nov. 24, construction related to the barns will not be finished by the time the racino opens next month. "The whole construction of the barns is ongoing and now those don't have to be finished by September, since we don't start racing until the end of November," Tenenbaum said.
"Finally, the finish line is here," Austintown Trustee Jim Davis said. "We're ecstatic. The finalization of the promise to the community, and once again, we're so excited for all the happenings that are going to come with the facility."
Meanwhile, Cleveland-based Thistledown Racino, owned by Caesars Entertainment, announced the beginning of a $60 million renovation project. That starts with the expansion of the gaming patio of Slush Bar. The Ohio Horsemen's Benevolent and Protective Association made a deal earlier this summer to run half of its racing year at Thistledown and half at Austintown.