QB Hoyer taking snaps again with first team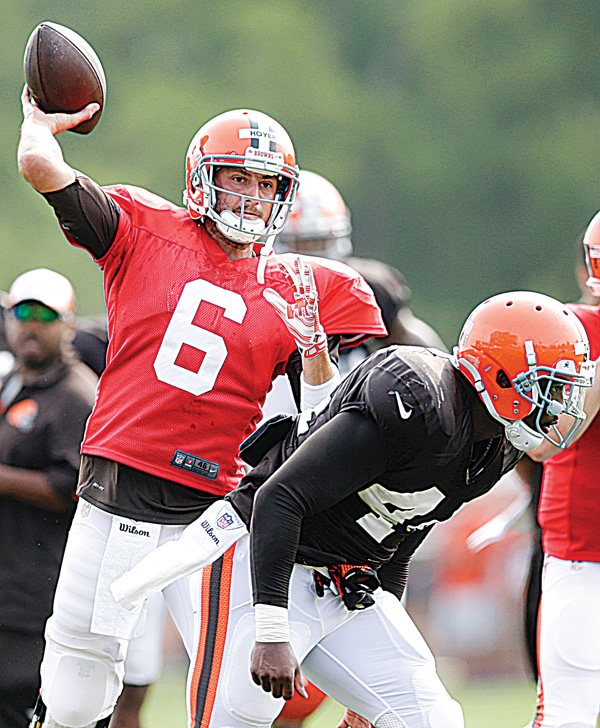 ---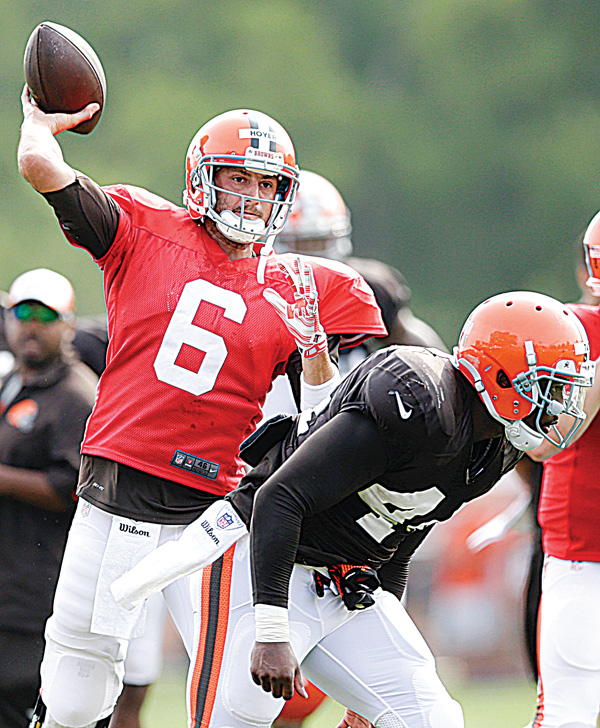 Photo
Cleveland Browns quarterback Brian Hoyer passes during practice Tuesday at the team's training camp in Berea.
Associated Press
BEREA
The first depth chart didn't reveal anything new about Cleveland's quarterback order.
Brian Hoyer is first. Johnny Manziel is second.
A day after Manziel took snaps with the Browns' starting offense for the first time, Hoyer was back behind center with Cleveland's first-team unit during Tuesday's 11-on-11 drills.
With their competition seemingly tighter than at the start of training camp, Hoyer and Manziel had their best days of practice and Cleveland's offense finally clicked.
"I thought there was some good competition out there," Browns head coach Mike Pettine said. "I was glad that the guys responded the way they did."
Pettine had cautioned not to read too deeply into Manziel's one-day promotion, saying it was part of the plan for Cleveland's coaching staff to evaluate the two quarterbacks. And sure enough, Hoyer was right where he's been since the Browns opened camp — ahead of Manziel.
Pettine did not reveal who will start the Browns' exhibition opener in Detroit on Saturday. Pettine said he'll meet with the position group before deciding how the plays will be divided. On Monday, Pettine said it was likely that Hoyer will start against the Lions.
Manziel, the wildly popular first-round pick, appeared to close the gap on Hoyer following a solid performance in a scrimmage last weekend in Akron.
But Hoyer seems to have responded the past two days, making quick decisions and accurate throws as he tries to hold off the Heisman Trophy winner with the cult-like fan base.
"Where you see where Hoyer's ahead is his ability to throw a ball before a guy breaks open, but we certainly see Johnny making strides in that direction," Pettine said.
Manziel again showed some of his Johnny Football theatrics with scrambled and side-arm throws, giving Browns fans at camp a chance to cheer. But what's impressed the Browns is Manziel seems to be grasping Cleveland's offense.
"He understands football, but when you switch offenses and you're going from just a completely different system, it's just like learning a foreign language," Pettine said. "You know it in your own terms, but then you have to find out, 'OK, how do I translate? What I know was this is now this.' That's just part of the learning curve for everybody, especially rookie quarterbacks."
Hoyer and Manziel are expected to meet with the media today.
Wide receiver Josh Gordon continues to practice as he and the team awaits the NFL's ruling on the appeal of his possible suspension. Pettine doesn't know when there will be a resolution but figures it "will be a chunk of time."