Kokrak returns for major PGA test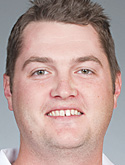 Photo
By ED PUSKAS
No one can say pro golfer Jason Kokrak doesn't have guts. He just didn't want to show them off.
Kokrak, the former Warren JFK and Xavier University standout, chose to return to the PGA Tour for a major — this week's PGA Championship — after undergoing surgery to fix a sports hernia.
Nothing like getting back in the game with one of golf's top challenges.
Kokrak said he hasn't yet regained his full range of motion after the operation, but is glad to be playing golf again.
"I feel pretty good," Kokrak said Tuesday night from Louisville, Ky., home of Valhalla Golf Club. "I don't think I'm quite 100 percent, but I'm swinging without any pain."
And, as an added bonus, he no longer has to worry about the potential of his medical condition putting his guts out there — literally — after one unfortunate swing.
Kokrak said he has been dealing with an umbilical hernia since late in his college career with the Musketeers. He'd been playing through it for years, but the condition wasn't going away and the golfer said his doctor told him there was a chance it could worsen.
"He said I could wait years to do anything and there might not be a problem, but there was a chance that fatty tissue and even intestines could slip through the hole at any time," Kokrak said.
With his tour card locked up, Kokrak decided in mid-May — after The Players Championship — it was time to have surgery.
"If I'd waited until the fall, there was a chance I'd miss all of the fall series events and maybe even into January," he said. "If that happened, then I'd be playing catch-up all season. Having my card freed me up to have this done and put it behind me."
After the operation, Kokrak learned he'd made the right decision.
"After they cut me open, my doctor said it was even worse than he originally thought," he said. "At any moment, I could have torn a bigger hole in my stomach."
Kokrak's doctor recommended eight weeks of recuperation and he followed those orders and started slowly upon being cleared to hit the range.
"I did a lot of wedge game work and short game work to start," Kokrak said. "A lot of my practice has come in the last two or three weeks."
Kokrak played in 16 events before his medical hiatus. He made 11 cuts and had two top-10 finishes — fourth at the Arnold Palmer Invitational in March and a tie for 10th in The McGladrey Classic in November.
Kokrak returns to the PGA Tour in 82nd place on the money list with $1,071,033 in earnings and in 76th place with 632 points in the FedEx Cup standings. The top 100 players qualify for the Deutsche Bank Championship, the top 70 for the BMW Championship and the top 30 for the Tour Championship.
Kokrak shot 70-80 and missed the cut at The Players Championship before having surgery.
"I'm hitting the ball surprisingly well," he said. "I'm just looking forward to an entertaining, fun week without any stress or expectations.
"I know it's a major and I'm going to be throwing myself into the meatgrinder with guys who have been playing really well for weeks, but it's good to be back on the course."
A major at Valhalla is obviously a challenge after almost three months off, but it appears there will be birdie opportunities for the recovering Kokrak.
"There are four or five holes around 490-510 yards that are basically par-5s playing like par-4s," he said. "I've had like 3-, 4- or 5-irons into the greens. ... The greens are relatively soft for a major championship, but that comes with having it warm and humid.
"It all depends how fast the greens are this weekend. They're very large greens and you have to play position golf. It will be a great test of golf. I think Tiger Woods was 18-under the last time he won here [in 2000], but I don't know if the scores will be like that."
Woods' balky back flared up Sunday in the final round of the Bridgestone Invitational at Akron's Firestone Country Club and it might prevent him from joining Kokrak at Valhalla.
But that won't deter the former Warren JFK standout, who will play the first round with Rafael Cabrera-Bello and Steven Gallacher. They'll tee off at 9:10 a.m. Thursday on No. 1.
"I'm definitely glad to be back out here," Kokrak said.