Good teaching comes first, technology can help, speaker says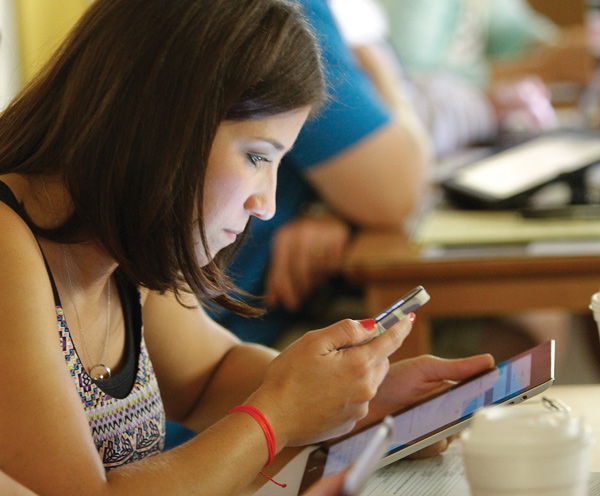 ---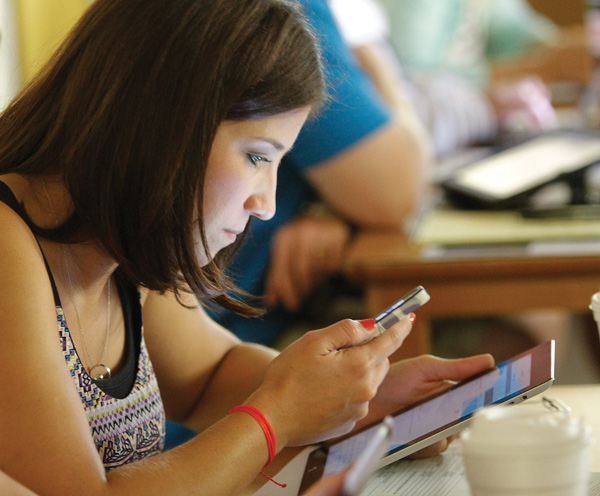 Photo
Allison Morgan, an eighth-grade science teacher in the Boardman School District, uses interactive media devices — a smartphone and iPad — during the first day of a technology conference at Boardman High School.
By Sean Barron
BOARDMAN
Most teachers likely would agree that Padlets, Google forms and other tools have aided in their lesson plans, but no type of classroom technology should usurp means to enhance students' abilities to learn, a technology expert stresses.
"Don't let technology get in the way of good teaching and learning," Todd Smith told about 40 Boardman middle- and high-school teachers who attended his presentation during a technology conference Tuesday at Boardman High School. Smith is supervisor of Instructional
Technology and Information Managment at Boardman schools.
The two-day seminar, themed "Think Different and Demand Different," wrapped up today and was to make it easier for school personnel to stay current on programs and applications to better help students reach their academic goals.
Also on hand were Google and Apple representatives who introduced new learning programs.
Padlets are website tools that allow teachers to create virtual bulletin boards and can be altered easily to fit into given curriculums. Google forms often are used to create surveys and have applications for quizzes, tests, sports, basic student information and many other uses, said Smith, the high school's technology director.
He also noted that many instructors and administrators need a "mindset change" to more effectively reach a greater number of students.
A big step toward achieving that goal is to discontinue the traditional practice of centering curriculum standards around "average" students and use technology to help teach "kids on the edges," those who may be gifted or have learning challenges, Smith explained.
To underscore his point, Smith showed attendees a video titled "The Myth of Average," which talked about how the Air Force had made a series of modifications to the cockpits of its fighter jets. The design changes recognized that no two pilots share an identical set of physical or mental characteristics.
Likewise, instructors need to resist a one-size-fits-all approach and adopt flexible enough teaching methods, which include technology, that take into account students' varied ways of learning and processing information, Smith noted.
"What have we done? We've made passive instruction interactive," he continued.
One of those who said he benefited from Smith's lecture was Tim Harker, a Boardman Center Middle School sixth-grade English teacher.
"We have more technology coming, so this has made it easier to integrate," he explained.
Harker predicted that practical applications in his classroom will allow the students to more-readily interact with the lessons. That, combined with computers, likely will boost their overall interest, he added.
Teachers who committed themselves to the extra requirements received their choice of five iPads or 10 Chromebooks for their classrooms. The devices are from a fund the Mahoning County Regional Council of Governments provided to the school.