Discovery Channel renews Fat 'N Furious
---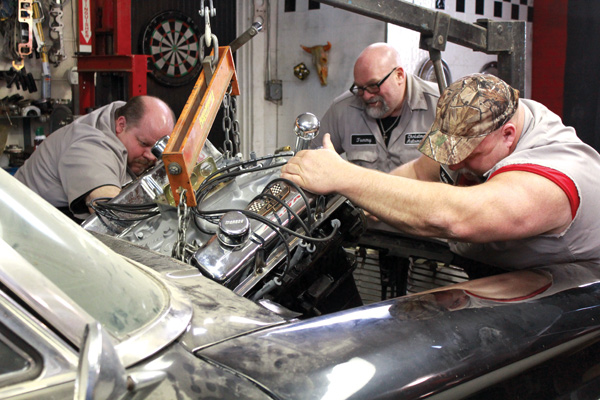 Photo
The crew at Christmas Automotive replaces an engine in a scene from "Fat 'N Furious." From left are Chuck Kountz, Tommy Christmas and Steve McGranahan. The show's strong finish in the ratings earned it a renewal for a second season.
By GUY D'ASTOLFO
dastolfo@vindy.com
The fast ride will continue for "Fat 'N Furious: Rolling Thunder."
The reality TV show's strong finish in the ratings earned it a renewal for a second season, said an official with the Discovery cable channel.
The show follows the crew at Christmas Automotive in Boardman as it rebuilds muscle cars and gets them ready to drag race.
The timetable for shooting the second season, and the air dates, have yet to be determined, said Dolores Gavin, executive vice president for development and production of Discovery.
The inaugural season, which included six episodes, wrapped up July 28. The hour-long show aired at 10 p.m. Mondays and was largely shot at Christmas Automotive's race shop in Fowler.
Gavin said the ratings started slow, but picked up speed each week.
"It was a slow burner at first but the audience grew each week, especially in the final week," she said. "The season finale reached just under a million people in the 25-54 age group."
The series didn't just connect with viewers.
"When we announced internally [on Friday] that the show was being renewed, [the staff] applauded," said Gavin. "That doesn't usually happen. People just love this show. They've taken to these guys in a heartwarming way. Tommy [Christmas, the shop owner] has struck a chord with people and the audience is rooting for him."
Gavin said she is eager to start production on the second season, but first has to meet with the cast to set up a timetable that accommodates their schedules.
"I don't want to wait," she said. "I would start in three weeks if I could. But working on cars takes a lot of time and Tommy is a perfectionist the whole way through. He won't let something go if it isn't just right."
The show's cast members take their cue from Christmas, who runs the shop and is at the heart of most scenes. Christmas, who lives in Boardman, and the wisecracking Chuck Kountz, of Campbell, were already well-known in the area's muscle-car scene.
But since "Fat 'N Furious" took to the air, their fame accelerated in record time.
Christmas said his life has drastically changed since the show premiered.
"I can't go anywhere without someone saying, 'Hey, you're that guy on television'," said Christmas. "I just let out a big smile and then they want to take pictures and get my autograph. It's unbelievable. I never thought this would happen in a million years."
His lovable personality is nothing new to those who have always known him.
"In my other business, people always said, 'You are like a big teddy bear, you've got a big heart'," said Christmas.
"I never thought I'd also be like that on television. But when people who know me see me on TV, they say, 'That's the way he is all the time'."
The show's other two regulars — Andy Pivarnik and Steve McGranahan — are long-time friends of Christmas and Kountz. They have known each other for years, having met at Victory Christian Church in Coitsville, which they all attend.
Although Pivarnik and McGranahan are not part of the Christmas Automotive staff, they are definitely integral pieces of the quartet of friends.
McGranahan had actually been developing a television career before "Fat 'N Furious." He makes regular appearances as "the world's strongest redneck" on CMT's "Country Fried Home Videos," and once shared the stage with Larry the Cable Guy on "The Tonight Show with Jay Leno."
The 333-pound comedian is also as strong as he looks: he can dead lift 585 pounds, according to his website.
Having the four friends as the core of "Fat 'N Furious" was always a part of the deal, said Christmas. "We've been friends for so long and we jelled together," he said. "What we do on TV is what we do when we go out to eat, or go to car shows."
Gavin, of Discovery, said the decision was made at the outset to not make mention of McGranahan's comedy career.
"Steve and Andy have worked on cars, and they all think Andy is a great negotiator," she said. All four cast members will be back for season two.
Gavin said the crew at Christmas Automotive has a quality that separates it from the pack, and it was obvious from the start.
"There is a lot of this type of programming on the air and we had to ask: 'What can we bring to the audience that cuts through the clutter of this genre?'," she said.
"When we first saw the sizzle reel (a promotional video used to pitch new shows to television executives), we looked at each and said, 'Are these guys for real?' It's rare. The way they interact is organic and fresh and feels natural. That back-and-forth in the shop — people relate to it in a fresh way. When viewers see something that is real and funny and they can learn from it, it's a home run."