To Berassa, age is fun and games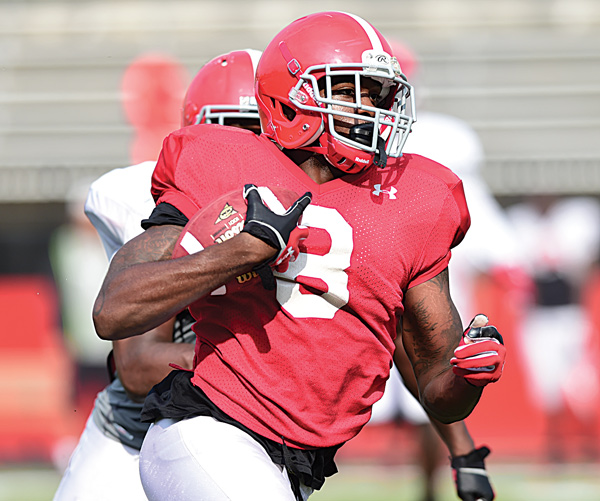 ---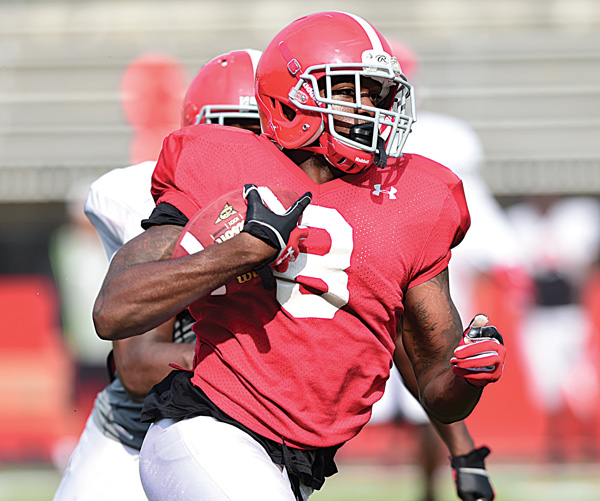 Photo
Youngstown State receiver Jelani Berassa (8) looks for daylight after getting behind defensive back D.J. Thomas during Tuesday's practice at Stambaugh Stadium.
By Joe Scalzo
YOUNGSTOWN
He introduced himself as a "Super Senior" on the first day of training camp and joked that he was taking his third senior picture.
He's been at Youngstown State longer than Eric Wolford and his teammates joke that he's been there since Jim Tressel was coaching.
"The funniest one is when we walk by the mural in the coaches' office and they say I played with all the guys from the '70s," said wide receiver Jelani Berassa who, yes, was a member of Jon Heacock's final recruiting class in 2009. "It's all fun and games."
Thing is, the sixth-year senior still isn't the oldest guy on the team. Linebacker Travis Williams turned 23 on Dec. 30, Berassa on April 29. He's only a few months older than junior RB Demond Hymes (Oct. 15) and junior QB Dante Nania (Nov. 5).
Doesn't matter. He's the Penguins' resident father figure, even if he isn't (quite) old enough to be anyone's real father.
"There's a joke every single day," senior WR Christian Bryan said. "It's almost getting to the point where I'm feeling sorry for him. The coaches are hopping in on it.
"Coach Wolf said it last night, 'He's been here longer than I have.' I thought he was joking at first, then I realized, 'Wow, he has.'"
To put that in perspective — there's only three players left from Wolford's 18-member recruiting class in 2010: safety Donald D'Alesio, tight end Nate Adams and center Stephen Page. The best player from that class, lineman Chris Elkins, now plays for the Pittsburgh Steelers.
But even though knee injuries stole Berassa's 2010 and 2012 seasons, and hindered him in 2013, he's earned respect based on what he's done on the field (setting career-highs with 37 catches for 552 yards and eight TDs on the dynamic 2011 team) and, more importantly, off it.
"He got up and spoke to the team the other night and it was a very emotional talk," Wolford said. "He's obviously been a big part of the program here and he's had three setbacks [ACL tears], so he can relate to the players when it comes to dealing with adversity and coming off of injury. And he's had some family issues at different times.
"Young guys, sometimes they don't feel as comfortable talking to a coach, so they can see him as a father figure here."
That role comes naturally to Berassa, who has garnered the type of respect in the locker room that Kurt Hess had the past few years.
"My whole life, I was never the type to follow the crowd," said Berassa, a Miami native. "My mother taught me the right way and I try to lead others by example. I'm the oldest guy and we need leaders on this team and I fill that role well. I don't shy away from it."
Berassa successfully petitioned the NCAA for a sixth season and he's looked good so far this summer. While it's unlikely he'll regain the form he showed before tearing his ACL in the summer of 2012 — "I still tell him that's the best I've ever seen him; nobody was stopping him," Bryan said — he looks capable of being a No. 1 receiver this fall.
"Last year, when he came back, you could tell he wasn't himself," Bryan said of Berassa, who caught just six passes for 74 yards and a TD last season. "But he's in a zone now.
"I won't ever tell him this, but he's one of the best football players I've ever played with. He's such a great leader. I look up to him, I love playing with him, I love watching him on film and I love being on the field with him. He brings it every day and we're thankful to have him for another year."