Prosecutors praise harsh Lupo prison sentence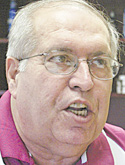 ---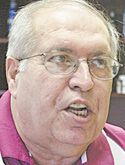 Photo
CLEVELAND
Ben Lupo's sentence of 28 months in federal prison and fine of $25,000 for ordering illegal discharges of oilfield waste down a storm drain and into a Mahoning River tributary in Youngstown are well-deserved, a U.S. Attorney said.
"Clean water and fresh air are not only important; they are the birthright of every man, woman and child in this great state," said Steven M. Dettelbach, U.S. Attorney for the Northern District of Ohio, after the Tuesday sentencing.
"Today's sentence was a significant sentence, but it was fully justified by Mr. Lupo's repeated — 31 different times — his repeated decisions to have pollutants dumped," into the tributary, Dettelbach said. "Environmental crimes are extremely serious matters."
As he spoke to reporters outside the federal courthouse, Dettelbach held a sample jar containing oil floating on water, which was collected from one of Lupo's tanks, whose contents were dumped illegally Jan. 31, 2013.
"First, he ordered low-level employees to do this, and second, he took basically what he didn't want any more and treated our environment like his dumping ground," on multiple occasions, said Brad Beeson, the assistant U.S. Attorney who prosecuted the case.
"Ben Lupo put his own interests ahead of everyone else's, and he deserved to face a severe penalty for his actions," said Ohio Atty. Gen. Michael DeWine in a statement.
U.S. District Court Judge Donald C. Nugent sentenced Lupo, 64, of Springfield Township, who earlier had pleaded guilty to violating the federal Clean Water Act.
After imposing sentence at the end of a three-hour hearing, Judge Nugent said he'll allow Lupo to self-report to prison at the time and place designated by the U.S. Bureau of Prisons.
The discharges from Lupo's Salt Springs Road waste-storage tanks ended Jan. 31, 2013, when Ohio Department of Natural Resources agents, acting on an anonymous tip, saw an illegal discharge in progress.
The discharges, which the U.S. Attorney said began Nov. 1, 2012, led to a $3.1 million cleanup that lasted more than a month.
Beeson sought the maximum sentence — three years in prison and a $250,000 fine — to deter others from similar conduct.
"If he goes to jail, it's essentially a death penalty," Lupo's lawyer, Roger Synenberg, said, urging probation or house arrest for the ailing Lupo.
Lupo's primary-care physician, Dr. Thomas N. Detesco of Boardman, testified that Lupo "has several extraordinary impairments" and is "infirm."
Dr. Detesco said Lupo is a diabetic kidney-transplant and knee-replacement recipient, who undergoes daily kidney dialysis.
But the judge said the Bureau of Prisons informed a court official that it has all of the medical facilities necessary to treat Lupo.
Judge Nugent also said he wouldn't allow a large fine to substitute for a prison term and that confining Lupo at home would not deter anyone else from committing a similar crime.
The judge noted that the illegal discharges occurred on more than 30 occasions. "It was done at night and in secret," the judge said.
"My actions were irresponsible and foolish," Lupo said in a statement read by Joseph Gardner of Canfield, another of his lawyers.
In that statement, Lupo admitted he directed his employees to discharge the waste and apologized to the Mahoning Valley community, his family, his former employees, the government and the court.
"I made bad decisions from my heart and not from my brain," Lupo said, adding to his statement.
His lawyers previously had argued in a court filing that Lupo ordered the illegal dumping to keep his employees working.
They said he was running out of waste-storage capacity, having shut down his waste-disposal wells because they were linked to series of earthquakes.
Another defense witness, Dr. Stephen D. Emsbo-Mattingly, a Massachusetts forensic chemist, had testified earlier in the sentencing hearing that his analysis of environmental sampling results after the discharges showed neither benzene, nor toluene, from Lupo's tanks in the Mahoning River downstream from Lupo's business. Those were among the pollutants the U.S. Attorney alleged were illegally discharged from Lupo's tanks.
Mattingly said he saw no evidence the discharges caused any risk to public safety.
Kurt Kollar, the Ohio Environmental Protection Agency on-scene coordinator, who oversaw the cleanup, narrated from the witness stand a series of photos projected on a screen, which he took between Feb. 1, 2013, when he first arrived at the discharge site, and mid-March 2013.
Kollar said Lupo initially told him his employees had dumped "clean water" into the storm drain, but Kollar testified he immediately realized the problem was much larger after he found oil throughout the length of the creek, which he walked, and in the Mahoning River.
Kollar's photos showed oil in the storm drain adjacent to Lupo's tanks, in the creek into which it flowed and in the Mahoning River itself; and documented the cleanup process, including cleaning of the sewer, use of containment booms and absorption pads in the creek and the river, and excavation of contaminated sediment from the creek.
"There was no sign of aquatic life, whatsoever," in the creek immediately after the discharges, Kollar testified.
"A river is only as healthy as the tributaries that feed it," Kollar said.
Two employees of Lupo's Hardrock Excavating LLC, Mark A. Goff, 46, of Newton Falls, and Michael P. Guesman, 35, of Cortland, who pleaded guilty to violating the Clean Water Act, got three years' probation after saying they repeatedly dumped the waste at Lupo's direction.
More like this from vindy.com