Published: Wed, August 6, 2014 @ 12:00 a.m.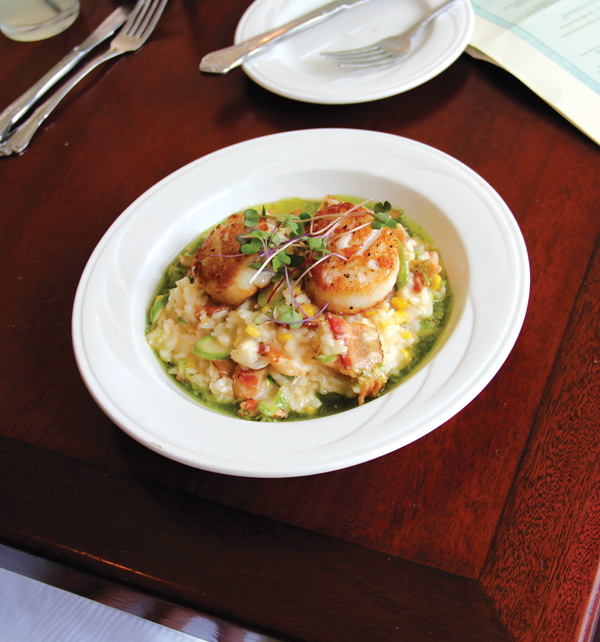 Photo
Pan seared sea scallops from the Welshfield Inn.
If You Go...
Where: Welshfield Inn
Address: 14001 Main Market Road, Burton, OH 44021
Phone: 440-834-0190
Hours: Monday through Thursday, 11:30 a.m. to 9 p.m.; Friday and Saturday, 11:30 a.m. to 10 p.m.; and Sunday, 10 a.m. to 9 p.m.
Website: welshfielddining.com
BURTON, OHIO
If you think you have to drive to the big city to experience gourmet dining, you've never visited The Welshfield Inn.
Located on Route 422 in Geauga County, not far from the Trumbull County line, The Welshfield Inn has a rich history and an even richer menu. It has been voted a Top 10 Cleveland Restaurant and has received awards for its delicious Sunday brunch.
I started my dining experience by sampling the crab cakes Benedict from the restaurant's Sunday brunch menu, and oh my goodness, it was sublime!
A poached egg, crab cake and lump crabmeat top a toasted English muffin slathered in "Old Bay'onaise' sauce. The creamy egg yolk and flaky, flavorful crab cake partnered perfectly with the crispy English muffin. The $15.99 dish is served with home fries and fresh fruit, and if you visit the restaurant for brunch you should not depart without trying it.
Brunch patrons should also sample the stuffed French toast ($10.99), which features Texas toast grilled and stuffed with creamy fruit filling and topped with fresh berries and whipped cream with a side of bacon or sausage.
The fruit filling is fluffy and lightly sweet. Drizzle the toast with real Geauga County maple syrup and wow — just divine!
In addition to Sunday brunch items, I was fortunate enough to sample some of Welshfield's most celebrated dinner entrees: lobster macaroni and cheese, pan seared scallops, slowly braised pot roast and braised pork shanks.
My favorite was the lobster macaroni and cheese ($22.99). This dish will put all other macaroni and cheese recipes to shame. The smoked gouda cream sauce is perfection over pasta, and when mixed with generous chunks of Maine lobster and topped with a fontinella crumb crust, the tastes and textures are heavenly.
The silver-dollar-sized pan seared sea scallops were also superb ($29.99). Served on a generous bed of risotto with asparagus, sweet corn, bacon, lobster — this dish is truly mouth-watering!
If you're in the mood for stick-to-your-ribs gourmet cooking, the pot roast ($21.49) and pork shanks ($18.99) fit the bill. Both these entrees are served with hand-mashed potatoes and roasted carrots and boast tender, flavorful meat. If grandma were a gourmet cook, this is the kind of fare you'd expect her to serve at her kitchen table.
Other Welshfield signature dishes include chicken caprese fettuccine, chicken piccata, tenderloin medallions, char-grilled cedar planked salmon, fire grilled mahi mahi and the Welshfield chopped salad with grilled chicken breast and oregano vinaigrette.
The menu also features tempting desserts and a wonderful selection of wines.
Are you hungry yet?
Although the food is definitely divine, it's not just the food that gives the Welshfield Inn its appeal.
For starters, the Welshfield Inn is drenched in fascinating history. Built during the 1840s and originally named the Nash Hotel, it served as a stagecoach stop on the two-day trip from Youngstown to Cleveland, offering overnight lodging to travelers.
During the Civil War the building was part of the Underground Railroad, and fugitive slaves were hidden in the hotel barn and fed baskets of food from the kitchen.
The original structure has seen several additions during the years and has been used as a barbershop, jewelry shop, school and post office.
The inn became a restaurant in 1946 and has changed owners a few times through the years. In 2007, SKHM group, proprietors of restaurants and inns, purchased the property.
The inn was remodeled and reopened in November 2007.
In 2010, a neighboring church was renovated into a banquet facility to accommodate wedding guests. Welshfield's manicured grounds act as an ideal backdrop for numerous private functions and weddings each year.