Phantoms golf outing dazzles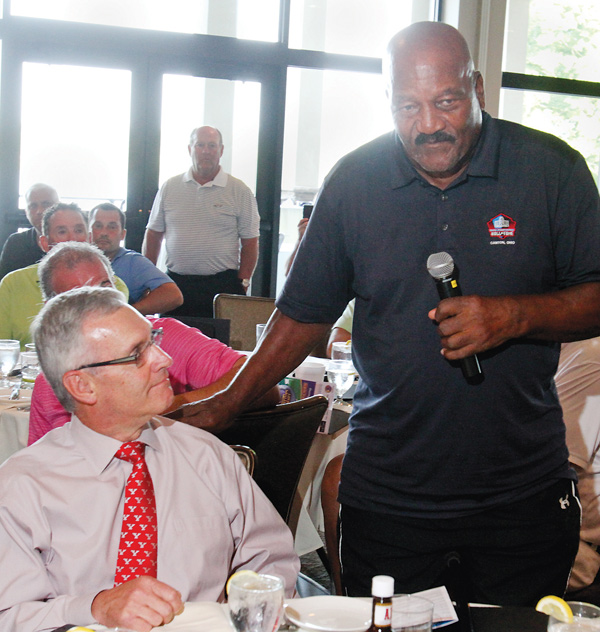 ---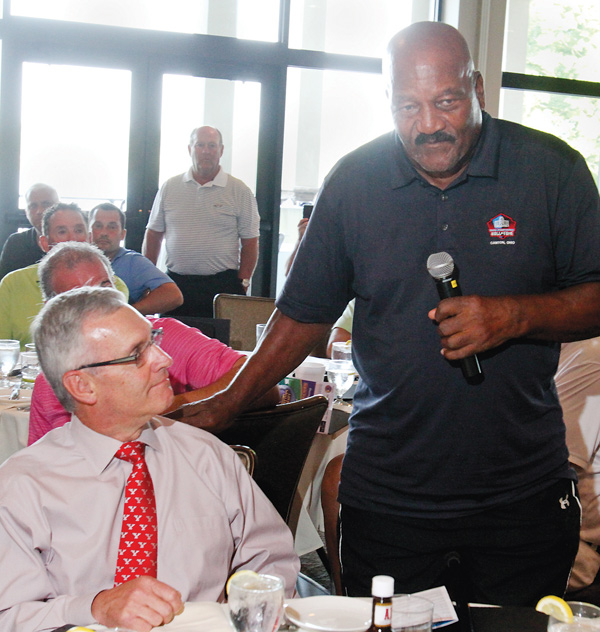 Photo
Pro Football Hall of Famer Jim Brown, right, speaks during the Youngstown Phantoms Sticks to Clubs banquet on Monday at The Lake Club in Poland. At left is Youngstown State president Jim Tressel.
By Tom Williams
POLAND
The USHL's new commissioner has been to many golf outings supporting hockey teams.
But Bob Fallen, who was named the junior hockey league's commissioner in June, has never been to one quite like Monday's Youngstown Phantoms' Sticks to Clubs gathering at The Lake Club.
Among the guests were Pro Football Hall of Famers Jim Brown (Browns) and Randall McDaniel (Vikings), and former Ohio State head coach and Youngstown State University president Jim Tressel.
Now that the Phantoms are co-owned by Bruce Zoldan and Troy and Aafke Loney, the spirit of Cleveland and Pittsburgh sports teams came together.
Fallen, who worked for Reebok-CCM Hockey's marketing department before coming to the USHL, said he has never attended a gathering quite like this.
"This is very unique," Fallen said. "The friends of Bruce are very unique. He's a pretty amazing guy."
Loney, whose 15-year NHL career included winning the Stanley Cup in 1991 and 1992 with the Pittsburgh Penguins, brought Black-and-Gold to the party.
Among the sports celebrities participating were former Penguins Phil Bourque, Jean-Sebastien Aubin and Francois Leroux. The auction contained a Penguins "Night Out" package and autographed jersey and stick from Mark Recchi, the Pens' new director of player development.
Zoldan said the auction raised more than $100,000 for the franchise. The top package had a Browns theme that included a print of a painting by Youngstown artist Ray Simon of Brown that the Hall of Famer autographed. Two were sold for $20,000.
Loney said the outing more than lived up to his expectations.
"The hospitality of everyone has been fantastic," Loney said. "This has been awesome."
Bourque, the Pens' radio analyst for the past 11 seasons, said he's played outings at The Lake Club at least seven times.
"I love it — it's a beautiful course," Bourque said. "People just rave about what Ed [Muransky] has done to the course. It's all good."
For Bourque who played for the Pens from 1983-92, making the trip to help promote hockey is easy.
"I love my job, I absolutely love my job," Bourque said. "I probably love it more because when I retired form hockey in 2000, I went three years without work.
"It is very humbling to go three years without a paycheck.
"I had a tough time getting back into the game," Bourque said. "[Penguins owner] Mario [Lemieux] helped me catch a break in radio and I grabbed it with both hands.
"That's probably why I do as much as I do to go above and beyond because I know what it was like to go without. I appreciate what I have more than any other analyst in the league."
Fallen also exudes a passion for hockey. He said it's been a busy two months getting up to speed as a league official.
"It's literally like drinking water out of a fire hose because it's coming at me so fast, but I learn something new every day."
One league headache that disappeared in the spring was when the Loneys bought half the team.
"This a great market for us," Fallen said. "Bruce is still involved but you have a [couple] in Troy and his wife, Aafke, who are completely committed.
"Stability in your franchise is absolutely paramount. Now you have that combination of financial stability and a committed ownership."