$751M — Mahoning's visitor spending up 12.9% last year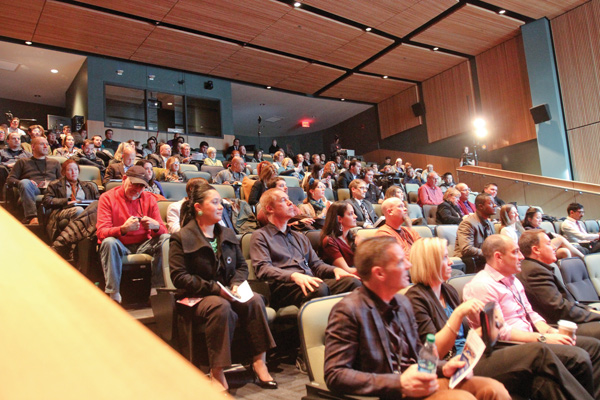 ---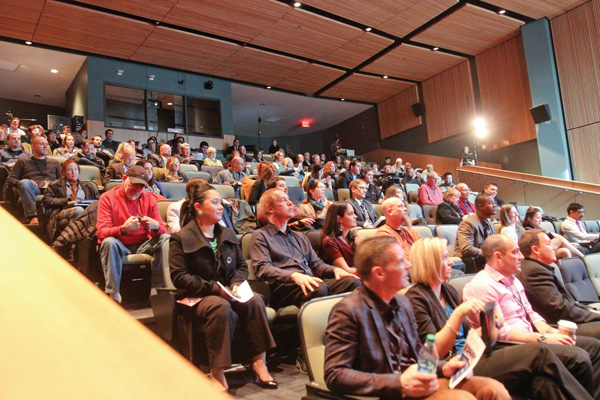 Photo
Attendees listen during TEDx Youngstown, a daylong gathering of speakers with innovation as the overriding theme at Youngstown State University in January.
By KALEA HALL
YOUNGSTOWN
Over the past couple of years, Jack Kravitz has noticed more and more people trickling in to his delicatessen.
Kravitz credits this to social media and tools such as TripAdvisor.com and Yelp, which has helped his business.
"We see people driving through Youngstown and reading the reviews and wanting to go to smaller local businesses," Kravitz said.
Visitors are big business in Mahoning County, according to a tourism economics report released Monday that showed a 12.9 percent increase in direct-sales figures alone from tourism.
Visitors to the county generated $751 million in business activity in 2013.
"The numbers show that tourism is an integral part of the economy here in the Youngstown area," said Linda Macala, executive director of the Mahoning County Convention and Visitors Bureau. "Conventions, conferences, travel and tourism and sports tournaments all contribute to our overall economic development picture. They bring people and visitor dollars into our community."
The biannual study conducted by the Oxford Economics Co. takes into account the lodging, food and beverage, retail, recreation and transportation business sectors.
It also showed tourism and visitor appearances helped to support more than 9,200 jobs, and notes that tourism supports one in every 12 jobs in the county. The majority of those jobs, 3,537, are in food and beverage industry.
Tourism here also provided $178 million in wages and generated $95.4 million in taxes.
Macala attributed the increase to business travel, special events, sports, conferences and other factors.
Mike Naffah, president of Naffah Hospitality Group, which operates Hampton Inn and Suites in Canfield and Days Inn in Lisbon, said he has seen an increase in business travelers.
Summer months are better for business than winter months, he said. He sees several people coming in for weddings, graduations and to visit family in the area.
Naffah said his restaurants — Inner Circle in Canfield and Shale Tavern and Grille in Lisbon — also have had in an increase in business.
"I just hope the shale boom continues because that could put a lot of dollars [in consumers' pockets]," Naffah said.
Kravitz operates delis in Liberty and Poland and also caters. He said the entertainment options offered here such as festivals, for example, also bring in visitors.
"We are really starting to do a lot of those things, which is starting to bring people in," Kravitz said.
Mahoning County Commissioner David Ditzler attributed the 12.9 percent increase from 2012 to 2013 in part to the oil- and gas- drilling industry and to construction of Hollywood Gaming at Mahoning Valley Race Course, which will open this fall, and of new Vallourec Star steel facilities.
"It's amazing. It's a great indicator that we're moving in the right direction for the county and that the hotels are getting filled," Ditzler said.
Because of insufficient availability of local resident workers in some skilled-construction trades, workers who live outside this area have been hired to work here, and they stay in local hotels, Ditzler said.
Sporting events contribute heavily to hotel use, including a Michigan-based Little League baseball tournament that came here last year and a youth wrestling tournament that comes to the Covelli Centre every March, Ditzler said.
"Those types of things bring in a lot of people that follow their kids and travel and stay in hotels. Those are huge events," Ditzler said.
Ditzler said Hollywood Gaming, which is near the Interstate 80 and state Route 46 interchange, will likely draw not only local residents, but interstate highway travelers seeking an entertainment attraction where they are stopping for an overnight hotel stay.
Youngstown State University events bring in thousands every year. The Skeggs Lecture Series, which brought in 2,000 people for the Michio Kaku lecture, and three commencement ceremonies brought in 16,000 people this past academic year. The Summer Festival of the Arts also brings in thousands. Sporting events also have large crowds. The average attendance for seven home football games last year was 13,506.
YSU has several lecture series events each year and they typically fill Stambaugh Auditorium, said Ron Cole, university spokesman.
"Commencement can draw upward of 7,000 people, and we have three of those a year," he said. "I'm sure a number of those people continue the celebration at a local restaurant or other business."
Cole added that YSU athletics draw thousands to the area to watch the Penguins.
Although Mill Creek MetroParks doesn't keep track of how many people come to the park every day, attendance for the events that are tracked has been some of the best in history, said Samantha Villella, the park's community engagement director.
The park does serve as a place that draws people in regionally, she said.
At a recent concert, Villella said she talked to a couple from Akron. They had heard about the concert on the radio and decided to come over.
"She had never been to the park, and he hadn't been here since he was younger," Villella said.
Contributors: Burton Speakman and Peter H. Milliken, staff writers.