Published: Mon, August 4, 2014 @ 2:56 p.m.
Ward Reduction Woes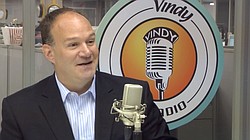 Video
Youngstown City Councilman Paul Drennen discusses the advantages to reducing the number of city wards from 7 down to 5.
Along with his regular programming, he'll welcome two special guests during Tuesday's show.
Come 9 a.m., Heather Bishop from Humane Society of Columbiana County will stop in to chat.
There's been lots of chatter lately from Youngstown residents and city officials about the redistricting of Youngstown's seven wards. The city must redistrict after every 10-year U.S. census but hasn't done so for more than 30 years. At 10 a.m., Youngstown City Councilman Paul Drennen will visit the Vindy newsroom to talk about the redistricting.
Go to vindy.com/radio to listen to the show live, or vindy.com/mobile/vindy-radio to listen from your smartphone.
Click here to listen to the show. Follow us @vindicator and @vindyradio for updates. We'll also be live-tweeting Drennen's visit!
Vindy Talk Radio Studio: 330-333-4454