Youngstown makes pledge to be 'Maker City'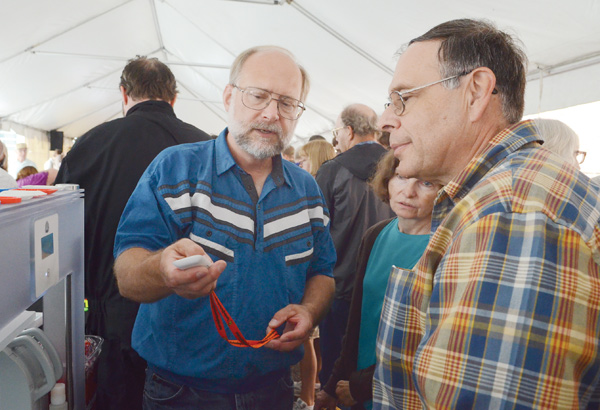 ---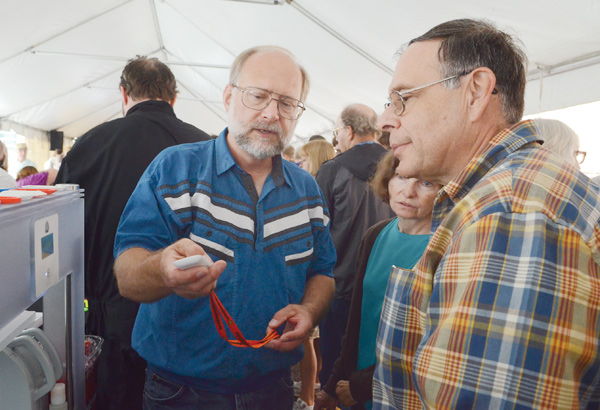 Photo
Joe Revesz of Turning Technologies, left, shows Rick and Karen France of Howland how a 3-D printer works at the final Maker City event Sunday. France is an industrial technology teacher at Badger High School and will soon be working with 3-D printers at the school.
By Kalea Hall
YOUNGSTOWN
Rick France, a teacher of 40 years in industrial technology at Badger High School, remembers the start of his teaching days when they used paper and pencil to draft ideas.
Now, his students are on the cusp of learning the newest technology and what is considered the transformation of manufacturing.
That technology is 3-D printing.
"It's a good thing," France said. "It's a sign of life and innovation."
France was one of the hundreds of attendees at the finale of the four-day Youngstown Maker City Initiative where about 12 local makers showcased products, the nationally recognized 3-D printing hub America Makes opened its doors to the public, and where U.S. Rep. Tim Ryan of Howland, D-13th, called on citizens of the Valley to "figure out some way, shape or form we can convert our economy to fuel this next movement."
"The reality of what we are experiencing ... is a complete transformation of manufacturing," Ryan said. "And the epicenter of that is right here [in Youngstown]."
Ryan discussed how Youngstown beat out several other front-running cities across the nation to have the first additive manufacturing hub.
Youngstown, Ryan said, has always been a Maker City, and now it is essential to prepare the high school and college and younger students to compete.
"We better figure out what we are going to do together so our students will be able to compete with these global players," Ryan said.
Research and development of technologies such as 3-D printing here will drive further investment and jobs in the Valley, he said.
Both Ryan and Ralph Resnick, founding director of America Makes, signed a Maker City pledge at the event. They also thanked California-based Make: magazine for coming to Youngstown with a group of experts to test 3-D printers for a story in the magazine's November issue.
"We have an amazing opportunity," Ryan said. "This movement is in our hands."
The makers at the fair made that clear as they proudly showcased their ideas and 3-D prints to the hundreds wrapped around the outside tent next to America Makes' downtown location.
One of those makers is Michael Perry. Perry is the organizing facilitator of The Oak Hill Makerspace, a community organization for individuals who want to create and collaborate. Makerspace is located inside The Oak Hill Collaborative and offers woodworking, metalworking, electronics and sewing labs for its members.
Everyone is welcome to the group's 7 p.m. Wednesday meeting, he said.
"I love Youngstown, and the saddest thing for me is people always leave and the idea of a "makerspace," in my mind, makes me want to stay," Perry said. "You can just go there and do what you want."
Some Youngstown State University engineering students were at the event showcasing their ideas and creations.
Jim D'Andrea and Dan Fernback, two recent YSU graduates in industrial engineering, and Zac Divencenzo, a YSU industrial engineering student, have a product called the JuggerBOT 3-D LLC that is expected to debut in 2015. The three are calling their product "a new generation of 3-D printers."
Two other YSU students, Brian Alls and Jessie Tuscano, started Bravura 3D LLC to develop big-market 3-D printers. They have been in operation for six months and are working on a prototype.
"We loved innovative technology," Tuscano said as to why the two wanted to start the company.
Heidi Daniel, director of the Public Library of Youngstown and Mahoning County, stood in front of the library's 3-D printer.
Daniel said eventually there will be classes offered on 3-D printers at the library.
"We think it's important to offer this," Daniel said. "[We are] changing and adapting to what's happening in our community."