Julianne Strauss, Scott Brownlee to marry Aug. 9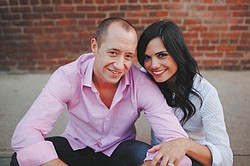 Photo
Scott Brownlee and Julianne Strauss
BOARDMAN
Julianne Strauss and Scott Brownlee will be getting married Aug. 9, her parents are announcing.
She is the daughter of Thomas J. and Cheryl A. Strauss of Boardman. He is the son of Robert R. Brownlee of Reynoldsburg, Ohio, and the late Bonnie F. Brownlee.
The couple, both of Columbus, have planned a 1 p.m. ceremony at St. John the Baptist Italian Church in Columbus. A reception will follow at the Ivory Room, also in Columbus. Both are by invitation.
Miss Strauss graduated from Bowling Green State University with a bachelor's degree in apparel merchandising and product development. She is senior production coordinator for EXPRESS in Columbus.
Mr. Brownlee graduated from the University of Kentucky with a bachelor's degree in integrated strategic communication. He is visual brand coordinator for Abercrombie & Fitch in Columbus.