Maker City weekend kicks off in downtown Youngstown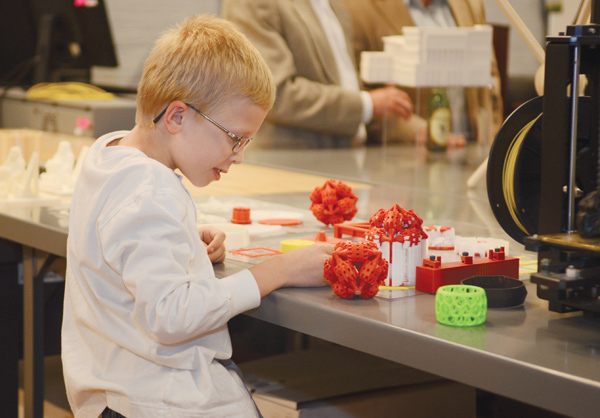 ---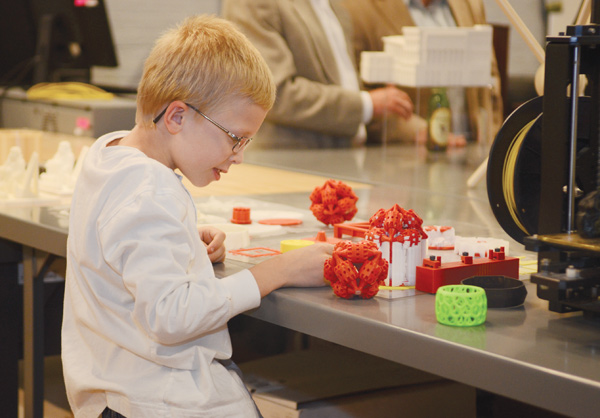 Photo
Ryder Fielding, 8, of Dayton plays with one of several items made using 3-D printing Thursday at the America Makes facility on Boardman Street in downtown Youngstown.
RELATED: 3-D printing taking over at America Makes
By KALEA HALL
khall@vindy.com
YOUNGSTOWN
Because when "America makes, America works."
That sentiment was at the end of America Makes founding director Ralph Resnik's speech at the kickoff reception and open house for the four-day Youngstown Maker City Initiative.
"Today and this weekend we are going to be celebrating yet another request and that is to be a Maker City, and where else to take that initiative than here in Youngstown?" Resnik said. "Making and manufacturing is in the DNA of this region."
The first request Resnik alluded to was the establishment of America Makes, formerly the National Additive Manufacturing Innovation Institute, two years ago as the first additive manufacturing hub in response to the request for the hubs by the President Barack Obama administration.
"As the president said in his state of the union [address], we turned this once-abandoned warehouse in 37 days into this innovation factory," Resnik said.
"We are doing, advancing and accelerating additive manufacturing and 3-D printing around the country so we can use this technology to be competitive," Resnik said.
Thursday's event was a showing of local business owners, community leaders, America Makes representatives, Make: magazine editors, public officials and others. Editors, writers and staff from the "do-it-yourself" Make: magazine will have a "3-D Printer Shootout" at the America Makes headquarters for the publication's award-winning 3-D printer review issue published annually.
"We think 3-D printing has kind of created new ways for people to make things ­­— things they have in their heads," said Dale Dougherty, founder and CEO of Make: magazine. "These tools are changing and democratizing as a technology."
Doughtery said people have come from across the globe to test the printers on behalf of others to tell them how well they work and to encourage people to get involved with 3-D printing.
"Facilities like America Makes are important for expanding the 3-D industry," said Matt Stoltz of Providence, R.I., who came to the event to help test 3-D printers. "We want something like this in every state in America."
Altogether, an estimated 100 people attended Thursday night's event with more expected at the public event from 1 to 4 p.m. Sunday, which includes a Makers showcase, 3-D printer demonstrations and a tour of America Makes. An official "Maker City" pledge will be made Sunday with U.S. Rep. Tim Ryan of Howland, D-13th, speaking "on the community plans to strengthen Maker programs and create new ones within this organized effort."
"This is how things are going to get made, and this is how economies are going to be revived," said Scott Deutsch, manager of communications and special programs for America Makes. "We see supporting any type of manufacturing as being critical to success."
Barb Ewing, chief operating officer for the Youngstown Business Incubator, a collaborator on the Maker City initiative, said the response to the event has been "fantastic."
"3-D printing has finally captured people's attention," Ewing said. "This is a technology that is successful. It's a technology that is available to the masses."
Ewing noted the support the initiative received from both the city of Youngstown and Mahoning County.
Mahoning County commissioners approved the spending of up to $20,000 from hotel bed-tax proceeds to go toward travel and lodging expenses of the California-based Make: magazine staff, and the city gave $10,000.
"The entire four-day process is going to be something that boosts our area and really puts us on the map," said Dave Ditzler, Mahoning County commissioner.