Camp FRIEND geared to helping those with autism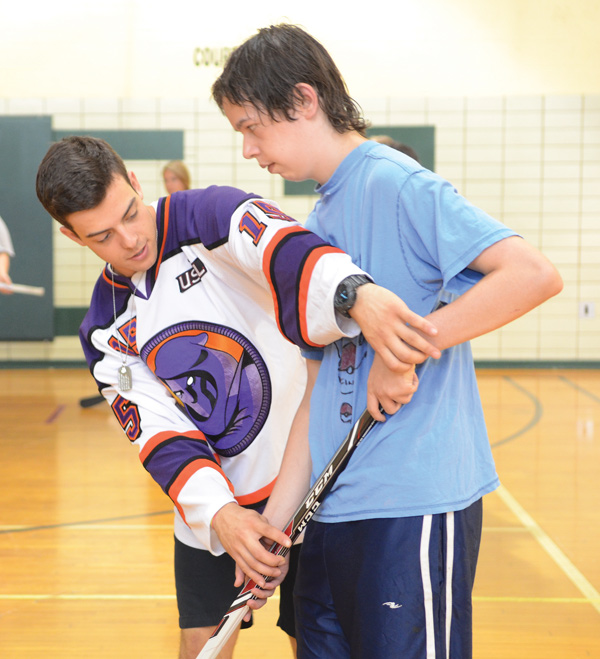 ---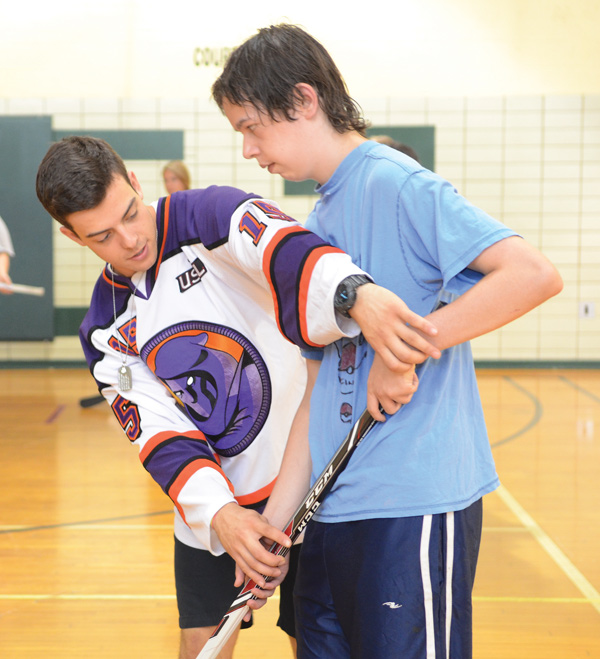 Photo
Tommy Parran, left, a Youngstown Phantoms hockey player, gives some pointers to Matthew Hipple, 17, of Youngstown at Camp FRIEND, which stands for Finding Rewards in Every New Day.
By Sean Barron
YOUNGSTOWN
In less than a week, 13-year-olds Christopher Gajski and A.J. Walters went from not knowing each other to becoming friends.
Most people likely would celebrate such an accomplishment, though in A.J. and Christopher's case, the achievement was made sweeter because both boys are on the autism spectrum.
Learning, processing and incorporating social skills is perhaps one of the most daunting challenges for many who have been diagnosed with autism, though a five-day summer camp has made the task easier for some youngsters and adults on the spectrum.
"It's a lot of games and learning flexible thinking," said Jen Gonda, camp director, referring to one of the themes of the inaugural Camp FRIEND program in and near the YMCA, 17 N. Champion St., downtown.
An estimated 30 children and adults from Mahoning, Trumbull and Columbiana counties with autism spectrum disorders took part in the five-day Camp FRIEND (Finding Rewards in Every New Day) summer camp, which began Monday and wraps up today. Also, more than a dozen volunteers and peers worked with those on the spectrum.
Hosting the event was the Autism Society of Ohio's local office in conjunction with the Youngstown YMCA.
The camp offered an inclusive, family-like experience for participants, many of whom took part in
activities such as swimming, miniature golf, games and a hockey workshop.
Swimming was a favorite for 11-year-old Lucas Beeman of Boardman, who is on the autism spectrum.
"It's really fun," the Boardman Glenwood Middle School student said Thursday about the camp. "I get to go swimming, get to do art, free time and gym."
Accompanying Lucas was Gino Ginnetti, 16, a Cardinal Mooney High School junior.
Gino enjoys volunteer work, so being a camp peer was a perfect fit, he explained.
He and Lucas took part in swimming and a scooter race that included a parachute, said Gino.
"I like talking with them, holding their hands and telling them to share," said 7-year-old Sophie Cika, another peer. "I told [one camper] if he loses to say, 'Good game.'"
Working with the 7- to 11-year-olds was Carrie Miller, a Canfield High School special-education teacher who spent time encouraging many of them to interact with one another and resist engaging in too many solitary activities.
"I want them to see that it's OK to try new things," said Miller, who also works with many nonverbal children. "Some rarely leave their homes and have now made a friend."
The older campers went on outings that took them to Edward W. Powers Auditorium, the main branch of the Public Library of Youngstown and Mahoning County, Home Savings and Loan, OH WOW! The Roger & Gloria Jones Children's Center for Science & Technology and the Joe Maxx Coffee Co., Gonda noted.
"It was the first time a lot of them had tasted coffee," she said.
Also on Thursday, Tommy Parran, a member of the Youngstown Phantoms, gave instructions to some of the campers on various techniques related to hockey.
Participants were divided into four categories: age 3 to 6, 7 to 11, 12 to 15 and 16 to 22, Gonda explained.
Those 3 to 11 learned the value of forming friendships, engaging in teamwork and figuring out ways to adjust certain thinking patterns. For example, one camper had to learn that he didn't always have to be first in line, and that it's OK to lose in competitive endeavors, she continued.
The older groups' themes were friendly competitions, which included the understanding that rules aren't absolute, and community integration, which gave those 16 and older opportunities to adjust to various aspects of community life. For example, some visited Home Savings to learn about opening a bank account and being responsible with money, Gonda noted.
In addition, most of the activities had built-in modifications such as breaking each into smaller steps, slowly dimming lights and easing into transitions to accommodate the campers' needs, noted Aundrea Cika, the Autism Society's director and Sophie's mother.
Cika also praised the efforts of the peers and volunteers, adding that maintaining a 3-to-1 ratio between campers and behavior-certified counselors helped the youngsters more easily make transitions.
Also happy with the summer camp was Gonda, who said: "I think everyone should have a fun day-camp experience."