Boardman Park hosts first of five Family Nights in the Park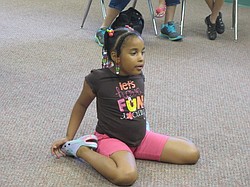 Photo
Neighbors | Tim Cleveland.Trinity Spell, 6, of Youngstown, listened intently during Family Storytime at the Main library.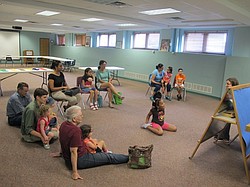 Photo
Neighbors | Tim Cleveland.A crowd of 14, which included seven adults and seven children, attended Family Storytime at the Main library,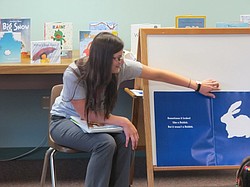 Photo
Neighbors | Tim Cleveland.Main library juvenile librarian Ashley Bentfeld read from the book "It Looked Like Spilt Milk" during Family Storytime.
By TIM CLEVELAND
On June 28, Boardman Park hosted the first of five Family Nights in the Park with many different activities.
The other dates were July 12 and 26, and August 9 and 23.
The events included bounce arounds, face painting, throwing balls through a target, hay rides, an appearance by Jocko the Clown, the Greater Life Church, magician David Powers, a showing of the movie "Wreck it Ralph" and a performance by The Wrangler Band.
Organizers said they expected 300-500 people to attend, which they said could be higher if not for fireworks shows in Poland and Canfield.
"We have an activities director [Karen McCallum] on staff and a lot of the other parks are doing the same thing and of course like to stay ahead of the game, so she introduced this to the park several years ago," Boardman Park supervisor Jim Feret said. "It's been a major hit because it's family night, it's kid-generated with the bounce arounds and with the movie night it's very popular. It's worked well. We always bring a more upbeat band. Our Thursday Music in the Parks are generated around our senior citizens and family night is for the younger generation."
Jennifer Perez of Boardman attended along with her husband Ramses and her son, also named Ramses.
"We knew it was the community night, it was family night, and we thought it'd be fun to come out and see what was going on," she said. "I knew there was the clown and maybe come out and see the movie later."
Jennifer said her son was looking forward to many activities during the night.
"He loves the bounce arounds and maybe grab a hot dog and see what else there is," she said.
Feret said the price for the Family Night in the Park couldn't be beat.
"Just a fun night for the kids," he said. "It's free. Free is good. Free brings out people."