Brier Hill Reunion dinner is planned for 37th year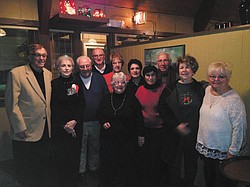 Photo
SPECIAL TO THE VINDICATOR Some of the committee members working on this year's Brier Hill Scholarship Dinner Dance Reunion follow, from left to right: Anthony Julian, Isabel Mancini, Joe Rebraca, Bob and Cathy Rimedio, Dolly Rebraca, Carol Righetti, Carrie and Tom Ramos, Mary Kanotz and Joan Julian. Other committee members are Ray and Ruth Greco, and Frank Righetti.
Staff report
YOUNGSTOWN
The 37th annual Brier Hill Scholarship Dinner Dance Reunion will take place May 9 at Mount Carmel Social Hall, 343 Via Mount Carmel Ave., and preparations are in full swing.
The social hour will begin at 6 p.m., a family-style Italian dinner will be available from 7 to 8:30, and dancing to the Dom Tocco Orchestra will take place from 8:30 to 11. Also planned are the presentation of two $1,000 Youngstown State University scholarships and the traditional grand march.
For tickets call Kathy Rimedio, chairman, at 330-792-1635 or Tom Ramos at 330-755-5279. For information call Anthony Julian at 330-799-8184 or 330-207-0515.
A crowd from the old Brier Hill neighborhood is expected to gather to recall memories of the old Fox Theater, Masternick's Drugs, the Tasty Sandwich Shop, Finesilver's Supermarket and Vince Furries grocery store as well as Rimedio's meat market, where everyone was given credit.
Kids played ball at Tod Park and the schoolyard. They played kick the can and marbles on the brick streets into the night under the streetlights.
Families would sit on front porches telling stories, and a porch light was a signal that something was wrong or someone was ill. Sunday was a big day for family dinners — after Mass that is — at St. Anthony's, St. Ann's or St. Rocco's.
Brier Hill is bounded by Highland Avenue to the north, old West Federal Street to the east, Worthington Street to the south, and Davis Street to the west.
Construction of Interstate 680 changed the population of the neighborhood in the 1960s. Many are beginning to realize that this may be the last generation to appreciate the old Brier Hill Italian connection.