Published: Wed, April 30, 2014 @ 12:00 a.m.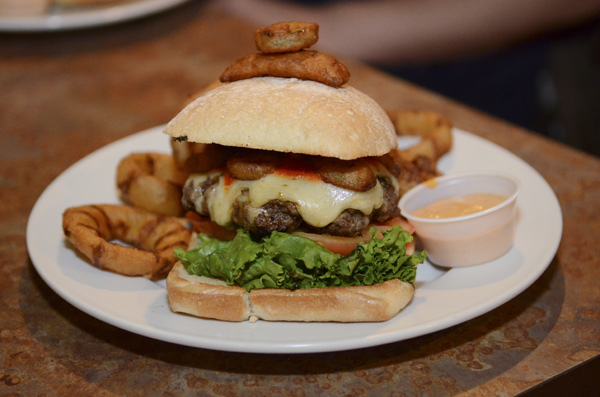 Photo
When You Go...
Where: Martini Brothers Burger Bar
Address: 110 West Federal St. Youngstown, Ohio
Phone: 330-744-7683
Hours: Mon - Sat: 11:30 am - 2:30 am, Sun: closed
Menu: 13 Signature Burgers, and a Burger Bar (build your own)
Price: $8.09 - $9.99
Website:Facebook- Martini Brothers
By Anthony M. Fuda
mvbrb@hotmail.com
It's not just a bar, it's a Burger Bar. And if you have "Burger" in your title, you already have our attention. But are they boasting about these burgers? Does the Martini Brothers Burger Bar have the beef to stand behind the boast?
If you read their Facebook page, their fans say "Fantastic!" and "Best burger ever!"
Best burger? That's exactly what we wanted to find out.
We punched in the destination and found a familiar 110 West Federal Street in downtown Youngstown. A location many places have attempted, but could not survive (Lemon Grove, Rosetta Stone...). What makes the Martini Brothers think they could buck the trend?
They just might have the answer. Burgers, and pretty darn good ones, too.
We entered the familiar eatery and found a table where we could carry on, and let waiter Donald LoGiudice, guide us on our burger experience.
The walls showcase a number of burger awards, (highlighted by a 2010 Burger of the Year, and a couple National Hamburger Festival (NHF) trophies) so we were off to a good start.
Starting with a menu filled with 13 Signature Burgers, and a Burger Bar (build your own), we already had our sites set high.
The Signature Burgers are highlighted by 1st place NHF for Most Creative Burger The Maui Wowwi (sliced ham, provolone, sweet and spicy mango, and a pineapple and habanero compote), and 3rd place NHF Best Burger The John Wayne (grilled onions, bacon, cheddar cheese, onions rings, smothered in BBQ sauce). Other burgers on the menu are: The Grilled Cheeseburger (burger between two grilled cheese sandwiches); Cajun Bleu Shroom; Hangover Helper (bacon, American cheese, breakfast sauce, topped with hash browns and an over easy egg); Filthy Animal (American cheese, deep-fried jalapeños, BBQ pulled pork, coleslaw); Pretzel Burger (honey ham, grilled onions, beer mustard, Swiss cheese, on a pretzel bun); El Diablo (fire roasted jalapeños, spicy onion petals, sriracha sauce, pepper jack cheese, lettuce, tomato); The Mac Attack (cheddar cheese , bacon, macaroni and cheese. spicy onion petals on a brioche bun); The California Club (bacon, turkey, provolone cheese, guacamole, lettuce, tomato, onions); and The Jalapeño Popper (fire roasted jalapeños, sliced cream cheese, bacon, cheddar cheese).
The Burger Bar offers a choice for everything, so you can make any burger imaginable. The burger can be a house burger blend, a veggie patty or even a turkey burger. Next, choose your cheeses, buns, and toppings. Some of the toppings are extra: $.50 - $1.50. With everything from roasted red peppers to fried egg and bacon, to even hummus.
The burgers are served with fries, or for $1.50 you can get beer battered onion rings, sweet potato fries or mac and cheese.
I went with the California Club and first noticed the excellent seasoned beef. Topped with fresh guac, and a slice of turkey nestled between a nice ciabatta bun, the mix of flavors was outstanding. I am a big fan of avocado on a burger, and when the burger is made like this one I can not give enough praise to co-owner and chef Dan Martini for creating such a burger masterpiece.
Scott went with the Pretzel Burger, and said, "The pretzel bun was soft, but held together quite well! The burger was well seasoned, and with the honey ham, made for an interesting, yet good, combination of flavors."
JT, who had the Hangover Burger, commented, "I didn't order it because I've been drinking! I've acquired a liking for the breakfast burger craze and this one is among the best I've tried. Great seasoning, crisp bacon... some things just do not change. Martini Brothers putting out an awesome burger, is one of those things. I recommend all burger lovers try them!"
Spatman went with one of the favorites, saying, "For a change of pace I chose the Grilled Cheeseburger. A well done hamburger patty placed between two grilled cheese sandwiches and topped with cheddar cheese, bacon and a tomato, with special sauce, and sided by fries. It was a very cheesy burger and seasoned just right. It was a deliciously different choice than a regular burger, and rated a 4 1/2 out of 5 on my wet-nap scale."
Eric was ready for heat, saying, "With the multitude of burgers to choose from on the menu, the El Diablo is what stood out to me the most. Combining some of my favorite toppings like jalapeños and pepper jack cheese, topped with Sriracha sauce, with beef that was perfectly seasoned and a bun that held up to the fiery onslaught, this burger left an impression on my palette we that screamed for more. I personally could have used a little more heat with the sandwich, but this was rectified by getting extra Sriracha sauce. Keep in mind that some might find the burger a little too hot so order at your discretion. I paired my burger with a side of onion ring. Overall I found the burger was made well and can recommend it whole heartedly."
Chiz was on cloud nine, saying, "The Martini Brothers offered me a little slice of heaven. And by heaven, I mean Cream Cheese... which is one of my favorite foods ever. The Jalapeño Popper Burger was pure bliss. The fresh meat was seasoned just right, and cooked a perfect medium. Stacked on top of the delightful burger meat was a THICK slice of cream cheese, roasted jalapeños, 2 slices of bacon, and cheddar as well!!! When it comes to a solid burger, I feel like you can never have too much cheese, or too much bacon!!! Thank you Dan Martini for the awesome burger, and even better experience. I will be back, most likely for your $6 Wednesday "Build a Burger" special!!!"
When you are driving through Youngstown, take one, two, or even three looks at 110 West Federal, but know that Martini's Burger Bar is here to stay -- with a burger worthy of all the accolades.
Dan says Burger Night is Wednesdays, when you can get any burger for $6. He added, "National burger month starts May 1st with 1/2 off any burger that day. And starting in May, there will be "a Burger a Day for the month of May" contest. Each burger you purchase in May gets you entered into a drawing to win a Burger a week for a Year, which will be drawn June 5th. The more burgers you eat the more chances you have!"
4 1/2 stars
Keep reading the Valley food section each Wednesday for the best food the Valley has to offer.
If you know of a burger that should be on our hit list, send the info to mvbrb@hotmail.com, or on our Facebook page BurgerGuyz.