Tressel, 2 others named as finalists for YSU president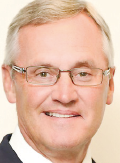 Photo
By EMMALEE C. TORISK
YOUNGSTOWN
Youngstown State University's Presidential Search Advisory Committee could know by the end of next week which of the three finalists announced Monday will become the institution's ninth president.
The finalists are Mary Cullinan, president and professor of English, Southern Oregon University; Gary L. Miller, chancellor, University of North Carolina Wilmington; and James P. Tressel, executive vice president for student success, University of Akron.
"All of the candidates are strong. Each of them could become president and do a good job," said Dr. Sudershan Garg, YSU Board of Trustees chairman. "We're looking for somebody who is a good administrator, who can lead us forward into the next decade or longer."
Each finalist will visit YSU's campus next week. All will have the opportunity to meet with the university community — including students, faculty and executive staff — as well as participate in hourlong public forums.
Tressel's forum will be Monday, followed by Miller's on Tuesday and Cullinan's on Wednesday. All three forums will be from 2 to 3 p.m. in the board of trustees' meeting room in Tod Hall.
These campus visits will mark the first face-to-face meeting between presidential candidates and the search committee, which consists of the nine university trustees and two student trustees, Garg said. He noted that the search committee will take into account comments from both the YSU community and the community at large, based upon the campus visits, when choosing its final candidate — a person he hopes will remain at the helm for at least seven or eight years.
The person selected as the university's next president will be its third in four years. Randy J. Dunn, YSU's eighth president who had an annual salary there of $375,000, resigned in March after eight months to become president of Southern Illinois University. Cynthia E. Anderson, the seventh president, retired in 2013 after three years as YSU's president.
University trustees plan to meet May 8 to select the finalist, though an official announcement likely won't come until the end of May, or when a contract has been worked out between the university and the candidate. A lot depends on these negotiations, Garg said.
"We don't want to make the same kind of mistake we did last time," he added, alluding to Dunn's contract, which stated Dunn could terminate the agreement at any time by giving 180 days notice, unless that notice is waived by the university.
Dunn gave his notice Feb. 17, making the effective date of his resignation Aug. 16, but the board of trustees waived the requirement. His final day at YSU was March 21, and Ikram Khawaja, YSU provost and vice president for academic affairs, has been serving as interim president, though he will retire June 30.
AGB Search of Washington, D.C., conducted the presidential search, albeit at no charge since Dunn resigned within a year. The university is responsible for paying for search expenses, however.
"He was the best candidate when we selected him," said Garg, referring to Dunn, YSU's shortest-serving president. "Unfortunately, he got homesick and decided to quit."
It's especially critical then that the university's next president be able to "hit the ground running," said Harry Meshel, a YSU trustee. Also imperative is that the university's next president fully understand YSU and its mission, along with the needs of the community at large.
Meshel noted, too, that though no one candidate is perfect, all of the finalists "are worthy of serious consideration" by the university. They've all been in situations that required a rare kind of leadership.
"We look for somebody who can make a decision and be responsible for it," Meshel said. "And somebody with a lot of courage, who can direct the soldiers to fight the battle."
He emphasized that the university doesn't have any time to waste in its search.
Tressel, former head football coach at both YSU and Ohio State, also is one of three finalists for the University of Akron presidency. He will meet with trustees, campus personnel and groups, and student and community leaders there Thursday, the last day of finalist visits.
He earned his master's degree in education at UA and bachelor's degree in education at Baldwin Wallace College, and has been Akron's vice president for student success since 2012.
Miller, too, is among the five candidates being considered for the presidency of SUNY Buffalo State in New York and met with members of the campus community Monday, according to The Buffalo News.
The chancellor of UNC Wilmington since 2011, Miller earned his doctorate in biological sciences from Mississippi State University and his master's and bachelor's degrees in biology from the College of William and Mary.
Cullinan, who earned both her doctorate and master's degree in English literature at the University of Wisconsin and her bachelor's degree in honors English from the University of Pennsylvania, has been president of SOU since 2006.
In March, Cullinan received no-confidence votes from 63 percent of the 217 SOU faculty members who participated in the confidential vote, which also reflected confidence issues with Jim Klein, provost, and Craig Morris, vice president of finance and administration, according to the Medford, Ore.-based Mail Tribune.
Cullinan was quoted as attributing the vote to frustration over several years of changes, including class-chopping and bargaining with faculty, on top of declining state financial support.
More like this from vindy.com