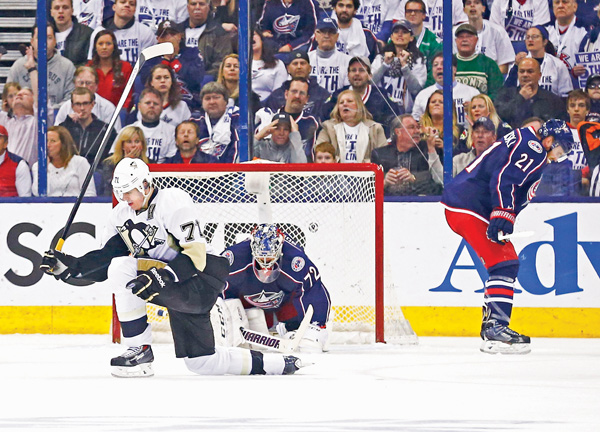 ---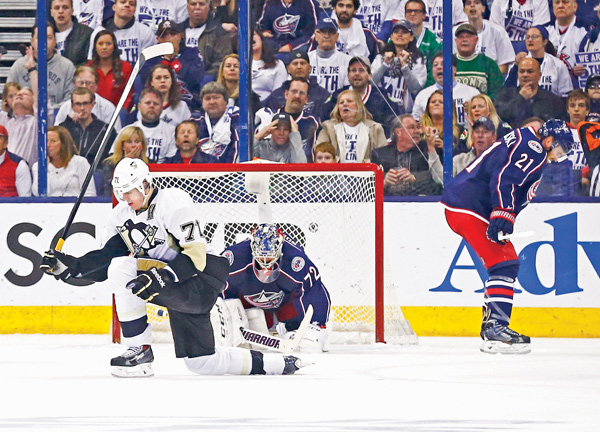 Photo
Penguins center Evgeni Malkin celebrates scoring a goal past Blue Jackets goalie Sergei Bobrovsky in the first period of Game 6 of their NHL Eastern Conference quarterfinal at Nationwide Arena in Columbus. Malkin scored three goals for the Penguins, who held off the Blue Jackets to win the game 4-3 and the series 4-2.
Malkin's 3 goals lead Penguins to series win despite late scare from Blue Jackets
Associated Press
COLUMBUS
Evgeni Malkin and the Pittsburgh Penguins finally flexed their offensive muscles.
And they needed every bit of scoring they could muster.
Malkin had a hat trick and the Penguins almost blew a four-goal lead before holding off the Columbus Blue Jackets 4-3 on Monday night to clinch their first-round playoff series in six games.
"It's more important that we win the game and [end] the series," Malkin said of the 10th time he's scored three times in a game in his career.
"Going into the second round now, you feel so much better when you have confidence. I hope in the next round I can score more."
Pittsburgh awaits the winner of the New York-Philadelphia series, with the Rangers leading 3-2 going into tonight's Game 6.
It's a good thing for the Penguins that Malkin — scoreless in his past nine playoff games including the first five in the series — finally found the net.
The Blue Jackets, closer to making tee times than thinking about a Game 7, scored three times in a 4:52 span in the third period to turn up the pressure on the Penguins, an overwhelming favorite before the series got under way.
"We're a proud group in here," forward Brandon Dubinsky said. "We didn't want to get embarrassed on home ice. If it was going to be our last game of the season, we didn't want to have any quit. We didn't have any quit in this locker room all season. We just kept pushing and pushing."
Brandon Sutter also scored before leaving with an injury and Matt Niskanen had two assists as the Penguins became the first team in the series to score first and win — but barely.
Marc-Andre Fleury made 24 saves and made a couple of big stops after the game turned into a squeaker.
"It was a good test," he said of the wild last few minutes.
Coach Dan Bylsma said the toe-to-toe matchup heralded a new level of contentious play between the teams.
"We've got a rivalry going here with the Jackets," he said. "They gave us everything we could handle and it was a nice series for them. That was an extremely tough first-round opponent."
Fedor Tyutin, Artem Anisimov and Nick Foligno scored for Columbus, Foligno's redirect of a Tyutin shot cut the gap to a goal with 4:47 left.
A crowd of 19,189 stood and roared the rest of the way as the Blue Jackets piled up scoring chances.
The Penguins were hard pressed to fight off the aggressive Blue Jackets after goalie Sergei Bobrovsky, who also had 24 saves, was pulled for an extra attacker with 1:52 remaining.
Matt Calvert was wide with a potential tying shot with 3:30 left. Dubinsky's shot with 35 seconds left was deflected by Fleury.
Columbus had overcome a 3-0 deficit at home in Game 4, scoring on a Fleury gaffe in the final seconds of regulation before Foligno won it in the overtime.
"After we got the third goal, anything could happen," Columbus coach Todd Richards said. "We had done it the last time we played in the building. My thought was it was going to happen."
Up until the last few minutes, it was Malkin's game. He hadn't scored in the first 332:52 of the series, then scored three times in a span of 26:11.
"I could see it coming in the morning skate," teammate James Neal said. "His shot was going into the back of the net."