Friends and family at vigil remember slain Vivian Martin
Vivian Martin Vigil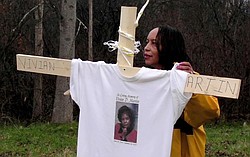 Video
Real estate agent Vivian Martin was murdered nearly four years ago in Youngstown. On what would be her 71st birthday family and friends gathered to remember Vivian and search for closure.
By Sean Barron
YOUNGSTOWN
Thirteen-year-old Damon Christian has had many fun times on the Fourth of July, and accenting his holiday enjoyment were the big annual family get-togethers at the home of his great-grandmother, Vivian D. Martin.
"She was very fun to be around," said the Chaney campus seventh-grader.
Ri'Kya Wright, 15, remembered a great-grandmother, who was a "great motivator" and who loved to give her money for maintaining good grades.
These were among the fond memories family members, relatives and friends shared during a vigil Monday for Martin, a real-estate agent who was slain Sept. 20, 2010, in the 3600 block of Nelson Avenue on the East Side.
Between 30 and 40 people attended the gathering where Martin's body had been found in a burning home, to honor what would have been her 71st birthday.
Police say Martin, a cancer survivor who owned Essence Realty, was lured to the location just off state Route 616, where Grant Cooper, 25, and Robert Brooks, 29, robbed and killed her. The pair then set the residence on fire to cover up the crime, authorities allege.
The vigil also was to ask for greater movement regarding the case in which Cooper and Brooks have spent about 31/2 years in jail after having been indicted Oct. 13, 2010, on charges of aggravated murder and aggravated robbery. Both men have yet to be tried and face the death penalty if convicted.
Several people wore T-shirts bearing Martin's likeness, held hands and prayed next to a memorial cross on which were balloons wishing her a happy birthday. Next to the marker were flowers and a stone that read, "No farewell words were spoken, no time to say goodbye. You were gone before we knew it, and only God knows why."
"She wanted us to work hard," said Latoyia Brown of Boardman, one of Martin's grandchildren who came with her children, Zack Howell and Kar Howell, both 16; Zackerah Howell, 15; and Zechariah Howell, 6.
Kysha Martin of Youngs-town, one of Martin's grandchildren, also remembered her grandmother as hardworking. Shortly before Vivian Martin's death, the two helped each other make a bed and had become closer partly because of many shared interests, Kysha fondly recalled.
"She meant what she said, but she was encouraging," Kysha continued. "You had to be on your P's and Q's with her, and she loved her job."
Others described Martin as direct, honest and outspoken, as well as someone who overcame many obstacles to achieve a lot.
"We grew up together. I knew her since second grade," said Artis Gillam, president and chief executive officer of A. Gillam & Associates Inc. of Youngstown and a former city councilman. "We really, really miss her."
Davida Brown, Martin's daughter, said that her mother was having a great day and that the two spoke on the phone shortly before the killing. They also had become closer as mother and daughter, she explained.
Brown added that she and other family members want closure in the case and for the two defendants to receive the death penalty or life in prison if convicted, though out of a sense of justice, not retribution.