Loss of power at Webb Road pump station caused the problem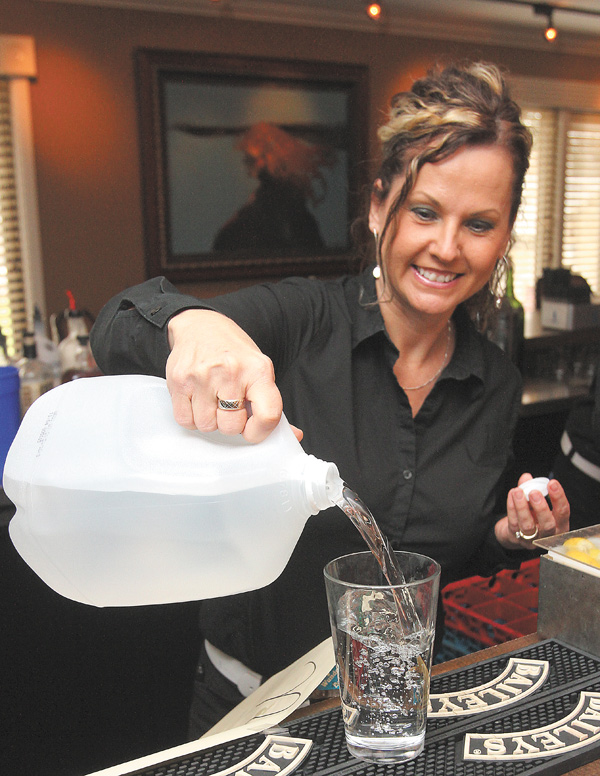 ---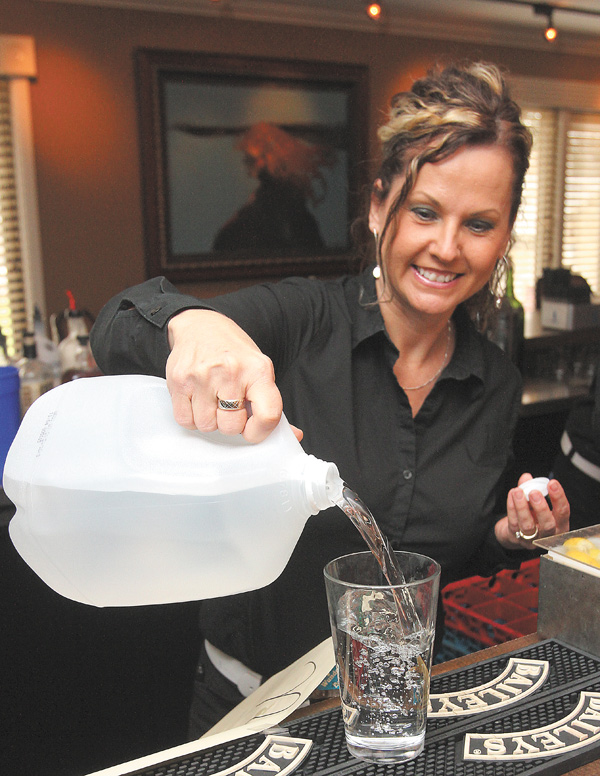 Photo
Tammy Branacaccio, a server at The Upstairs Restaurant in Austintown, pours bottled water at the establishment. Water problems at a pump station caused the business and the rest of the township and Canfield Township to use bottled water or boil their tap water Monday. The issue is expected to be resolved today.
and TOM MCPARLAND
YOUNGSTOWN
The Youngstown Water Department expects to know by this afternoon whether the boil alert issued Sunday night for customers in Austintown and Canfield townships can be lifted.
This is strictly a precautionary measure, said Eugene Leson, chief engineer of the water department.
He said water samples were being tested Monday by the Mahoning Valley Sanitary District. Once the results are known, which takes about 24 hours, he expects the boil order to be lifted.
The cause of loss of water pressure and the ensuing boil alert was an electrical failure at the Webb Road pump station in Austintown, which feeds the areas affected. Leson said the backup generator kicked on and off six times in a four-hour period before a breaker was finally tripped. Power was restored about 8:30 p.m. Sunday.
The water was depressurized, but there was no specific threat of it being exposed to contaminants, he said. Following a recommendation by the Ohio Environmental Protection Agency, the boil alert was issued and tests were ordered. That meant restaurants scrambled for bottled water and ice, and residents had to boil water and hold off on using their dishwashers, among other inconveniences.
Austintown schools remained open. Vincent Colaluca, superintendent, notified parents of the situation Monday morning.
The district needed 6,000 bottles of water to make it through the day, he said. Sam's Club in Boardman donated two pallets of water, and the district paid for an additional two.
All water fountains were covered, and the cafeteria workers began boiling water. Other than that, the schools were operating normally, he said.
Similar steps were taken at Canfield schools. All water fountains were shut down, and cafeteria workers were instructed to boil water, said Alex Geordan, superintendent.
Officials reached out to local venders, who supplied "hundreds and hundreds" of free water bottles for all four schools and the Canfield district's auxiliary buildings. The district would receive another shipment for today, he said.
Both school districts notified parents that they planned to open today with the same precautionary measures in place, the superintendents said.
"We updated them to the best of our ability and knowledge," Geordan said.
Cooskey Cullingan Water Conditioning of Youngstown fielded a higher volume of calls than normal Monday, mostly from restaurants trying to secure clean water for their lunchtime customers.
Bo Cooskey, fourth-generation owner, said his company provided restaurants water in 5-gallon containers to cook and to serve. The need could be anywhere from 10 to 20 of those containers a day, he said.
At The Upstairs Restaurant in Austintown, Gina Chance-Kirlic, a sous-chef, said employees purchased 12 gallons of water and bagged ice from a local grocery store. That would be enough to make it through the lunchtime rush, but management would reassess the need depending on the day's business.
At Cocca's Pizza in Canfield, store manager Mike Sturgeon learned about the boil notice on his way in to prepare for the restaurant's 11 a.m. opening. He said Cocca's has a stock of bottled water from employees pooling their in-house tip money, and workers would boil water as needed to wash their pans.
The Mahoning County District Board of Health issued instructions for residents and licensed food establishments in Canfield and Austintown townships during the boil alert. In general, a boil advisory means that bottled water should be used for drinking, hand washing, cooking or cleaning food; or if tap water is used, it should first be brought to a rolling boil for at least one minute prior to use.
Other general guidelines include:
Ice machines connected to refrigeration: Consult manufacturer.
Produce: Consider using bagged, prewashed, ready-to-eat, frozen or canned.
Cleaning and sanitizing of tableware, kitchenware components and food contact surfaces: Do not use dishwasher. Hot water or chemical sanitizer may not be adequate if the water is contaminated with parasites. Sanitize all food-counter surfaces and equipment after boil advisory is lifted.
Health conditions: Consult physician.
After boil alert is lifted: Flush waterlines for at least two minutes; clean faucet screens and waterline strainers on mechanical dish-washing machines and similar equipment; purge all water-using fixtures and appliances of standing water, such as ice machines, beverage makers, water heaters, etc.
All licensed food establishments in Austintown and Canfield townships who are customers of the Youngstown Water Department must provide a potable source of water for all facets of water usage until further notice. If that is not possible, then the Mahoning County District Board of Health recommends that they temporarily cease operations.
Guidelines for restaurants on what to do when an interruption of potable water occurs are offered on the health department's website at http://www.mahoninghealth.org/boil-water-alert-information/.