Published: Mon, April 28, 2014 @ 3:24 p.m.
The Classic Restaurants of Youngstown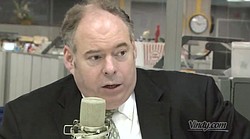 Video Set
Louie Free will be live on Vindy Radio from 8 a.m. to noon April 29.
Along with Louie's regular programming, we'll welcome a special guest at 10 a.m. Anyone nostalgic for Youngstown's lost restaurants or social history are urged to listen in for a visit from author Tom Welsh. Welsh, along with Gordon F. Morgan, co-authored the book "Classic Restaurants of Youngstown."
The work is a culmination of 14 months of research by the historian-authors, produced in collaboration with the Mahoning Valley Historical Society. Join us for Welsh's visit and hear more about the interview and research processes for the book, and talk a nostalgic walk down memory lane to famous Youngstown restaurants.
Go to vindy.com/radio to listen to the show live, or vindy.com/mobile/vindy-radio to listen from your smartphone.
Click here to listen to the show.
Vindy Talk Radio Studio: 330-333-4454