YSU women's tennis team wins Horizon title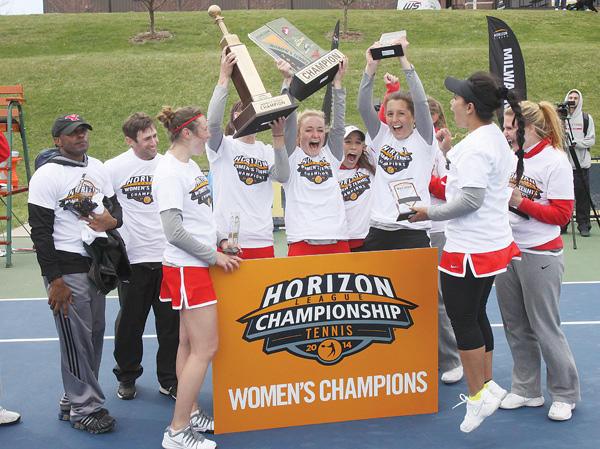 ---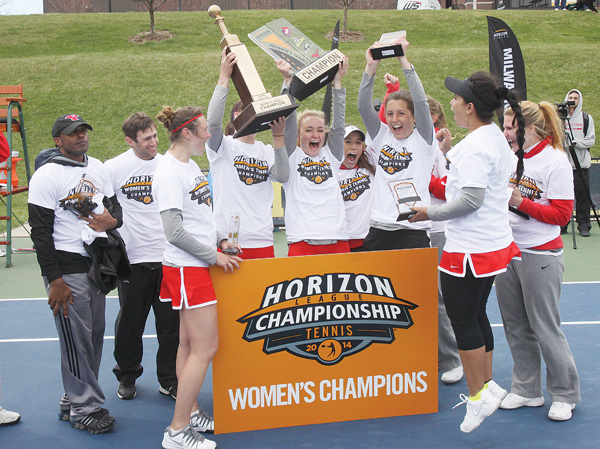 Photo
Members of Youngstown State's women's tennis team hold up their Horizon League championship trophies following Sunday's match in Ann Arbor, Mich. The Penguins defeated Cleveland State 4-2 in the final.
Staff report
ANN ARBOR, MICH.
With the best season in school history on the line, Youngstown State's women's tennis team turned to one of the best players in school history.
Margarita Sadovnikova delivered. Again.
Sadovnikova, a fifth-year senior from Ufa, Russia, teamed with Carolyn Jesko for a doubles victory, then defeated Cleveland State's Lauren Golick in two close sets to help the Penguins win 4-2 in Sunday's Horizon League championship at the Michigan Varsity Tennis Center.
"It's been a really, really, really long journey and, to be honest, I didn't expect it to end up like that, even though I was hoping," Sadovnikova said of her YSU career. "My tennis career at YSU couldn't have ended any better than that."
The Penguins won the doubles point while Annina Brendel and Marta Burak also earned singles wins.
It was the first Horizon League women's tennis title for the Penguins, who became the first team other than UIC to win the league title since 1996.
YSU nearly won last year's crown, falling to the Flames 4-3 in the final. Brendel lost that deciding match in three sets, falling 6-4 in the third.
"When I took the job in September, right from the get-go that was the objective for the women's program — get a couple more talents on the team and go and try to get that conference championship," said coach Mickael Sopel, who replaced Mark Klysner. "We had a very solid base of players already and the goal never changed.
"Along the road we had a few challenges, a few close losses in conference, but what matters is this tournament."
YSU (14-11) advances to the NCAA tournament, which begins May 9. The NCAA selection show is on Tuesday at 5:30 p.m.
"I'm so proud of every single girl on this team; they deserve it like no one else," Sadovnikova said. "Each of them worked really, really hard. It was an amazing season and I'm really excited about the first round of NCAAs."
In doubles play, Sadovnikova and Jesko (Boardman High) cruised to an 8-3 victory at No. 3 to start off the day. At No. 1, Burak and Dominicka Lackova eventually defeated Alex Power and Ellen Folkers by an 8-4 score. At the other doubles match, Brendel and Nehel Sahni battled back to tie their contest at seven before the doubles point was clinched.
Cleveland State earned the first singles decision as Victoria Bensimon beat Sahni 6-3, 6-2. Sahni started the match strong winning the first three points before Bensimon closed with a flurry.
Moments later, Burak helped the Penguins seize back the momentum, completing a 6-3, 6-1 win over Alex Bush. The Penguins then went ahead 3-1 as Brendel beat Mathilde Orange 6-3, 6-3 at No. 4. A gritty peformance by Jesko came up just short in a 6-2, 7-5 loss to Powers, making the score 3-2.
That left two matches — and YSU only needed to win one.
Sadavinkova earned a 7-6 (3) come-from-behind win at set No. 1 while Lackova dropped her opener 7-5. While Lackova battled to stay alive on court three, Sadovnikova kept chipping away at court one.
Trailing 5-4 and down a serve, Sadovnikova broke Lauren Golick to even the set at five. Sadovnikova then held serve making it 6-5 and won all four points on Golick's final service of the match to seal the championship for the Penguins.
"I knew I had to get this point," said Sadovnikova, who redshirted two years ago. "That's all I thought. I knew I have to, no matter how long it takes me."
It was Sadovnikova's third singles victory in three days.
"It's incredible what she accomplished this weekend," Sopel said. "Yesterday, after a very long [three-set] match, she was able to clinch the victory for us.
"Coming back today and playing with the intensity she did today was very impressive. I'm very happy for her and very proud of her. What a way to finish her five years with Youngstown."