Canfield recent business activity is its most in years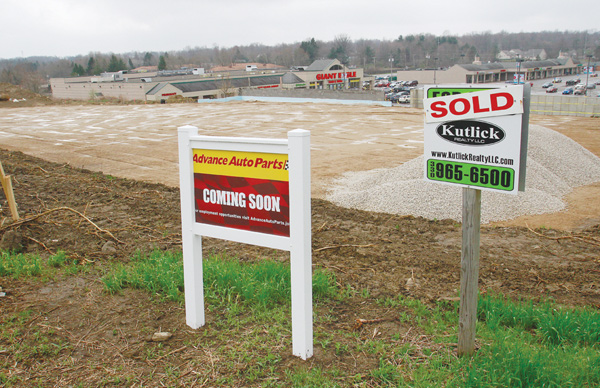 ---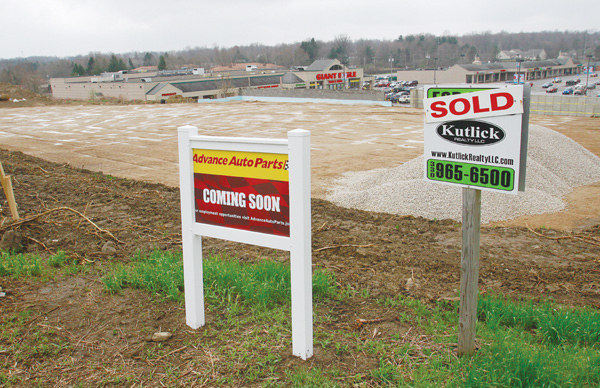 Photo
An Advance Auto Parts store will be built on this property on Manor Hill Drive in Canfield. It is part of a boom in business development in the city.
By Robert Connelly
CANFIELD
New businesses, coupled with a recent building purchase, have created the most commercial activity in years in Canfield.
City manager Joe Warino said last year's opening of a Dollar General, 477 W. Main St., coupled with construction on a new Advance Auto Parts are the most economic activity in the city in 10 years.
The construction value of these two projects is $1.175 million combined, said Warino.
"It's a lot more than we've seen in recent years," Warino said.
He also said Boardman businessman Joe Thomas, owner of Golf Headquarters, 1401 Boardman Canfield Road, has recently purchased the old Canfield IGA store, 8 N. Broad St. The building has sat vacant since it closed on Oct. 12, 2012. City officials are unsure what Thomas plans to do with the building, and Thomas was unavailable for comment.
Steve Rogers, Canfield council president, said Advance Auto Parts has been approved to move forward, and workers are building a retaining wall for the new business going next door to Giant Eagle along U.S. Route 224 at10 Manor Hill Drive. Advance received approval on its sign earlier this year. Patrick Huyge, of Site Enhacement Services, handles sign work for Advance throughout the country and said the auto parts store is working toward an open date of Aug. 7.
Rogers said there will be foliage around the building to help it to blend into Canfield's look. "It's going to look nice. I know its progress for this community," he said.
Warino said one more available lot behind the Advance Auto building sits between a neighborhood and the parts store. Warino anticipates that as more attractive for office space than retail, since it won't have as much visibility on 224.
City officials and township officials have been meeting in recent weeks on a proposed $8 million to $10 million nursing home and assisted-living facility. John Masternick, owner and founder of the Girard-based Windsor House, bought township property in recent years to develop it into a new facility. He has been trying to tie the land to the city for the water lines.
Annexation was an option, but Mahoning County commissioners turned down his annexation request from the township to the city earlier this year. The area comprises 18.6 acres bounded on the north by state Route 446 and on the east, south and west by the Mill Creek MetroParks Farm.
Warino said the city would still be opposed to a Joint Economic Development District as the city and township continue to negotiate on sharing tax revenue and costs of police and fire protection and road maintenance, as well as water and sanitary services.
Canfield Township Trustee Marie Cartwright said the two entities discussed a Joint Economic Development District during their meeting recently, but that the city would only enter into one if it could later acquire the land in an annexation deal.
She added that the city and township have worked together before, citing road paving and snow plowing as examples.
"This is the first time that we've had talks on a project of this nature that I can recall," she said.
"We just want to do the project," said John Daliman, Windsor House's corporate counsel.
He added that it is up to the city and township to work out an agreement now. "We hope that both entities see the good in having that development," he said.