U.S. Rep. Tim Ryan seeks his seventh term in Congress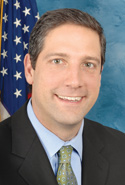 ---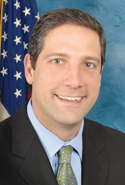 Photo
YOUNGSTOWN
U.S. Rep. Tim Ryan, seeking his seventh term in Congress, is facing John Stephen Luchansky, who's unsuccessfully run for the House twice, in the Democratic primary.
Ryan of Howland, D-13th, said his major accomplishments during his time in the House have been efforts to turn the Mahoning Valley into a "beacon of additive manufacturing."
He specifically mentioned the $70 million America Makes additive manufacturing facility that the president has mentioned in his State of the Union address two years in a row and the work and research being done in the field at Youngstown State University.
"We're at the very early stages of seeing the benefits," he said.
Ryan agrees with the assessment that Congress has accomplished little because of partisanship.
"But there's low-hanging fruit that Democrats and Republicans can agree on," he said.
One, Ryan said, is a tax credit for companies to create more manufacturing jobs.
His top priorities, if reelected this year, are to expand and support renewable energy sources to reduce the nation's dependence on foreign oil, focus on education by offering more technology programs to students and work to improve teacher recruitment and training.
Ryan also wants to create a 3D printing and additive-manufacturing business park, hopefully in the Mahoning Valley, that would bring leaders in those fields together.
Ryan said the federal government should provide $40 million to $50 million for the proposal with a larger amount coming from private investment.
Ryan's opponent, Luchansky of Boardman, has run for the 6th Congressional District twice.
In the 2004 general election, he ran as a write-in against then-incumbent Ted Strickland, and received 145 votes, 0.06 of 1 percent of the ballots cast.
Two years later, he finished last in a three-man Democratic primary, receiving 11.3 percent of the vote, losing to Charlie Wilson, who ran as a write-in candidate and received 66.2 percent of the vote.
Luchansky said the main reason he's running is that if he wins, he would conduct a congressional probe into a 1996 shooting of Doug Jones Jr. by a Poland village police officer.
"Congressman Ryan refused to address the issue, so I decided to run," he said.
Though Ryan is a strong backer of Obamacare, Luchansky opposes it.
"I'm not familiar with the whole thing, but I've heard there's a provision on [providing] contraception," he said. "I'm a Roman Catholic. I can't support it. I can't support anything that has to do with contraception."
Luchansky also disagrees with Ryan's focus on high-tech jobs.
"My focus would be on something else," he said. "I'm not familiar with high-tech jobs. Something more substantial should come here. I don't know what I'd bring here instead. You need something like another Lordstown [General Motors complex] to come to this area."
The winner of the Democratic primary would face Republican Thomas Pekarek of Cleveland if he receives at least 50 write-in votes in the May 6 primary.
Pekareck has unsuccessfully run for various elected offices including three congressional races. The most recent was 2010 when he received 18 percent of the vote in the 11th Congressional District race against Democrat Marcia Fudge of Cleveland.
The heavily-Democratic 13th District includes much of Mahoning and Trumbull counties as well as portions of Summit, Portage and Stark counties.