Poland library hosts Bigfoot event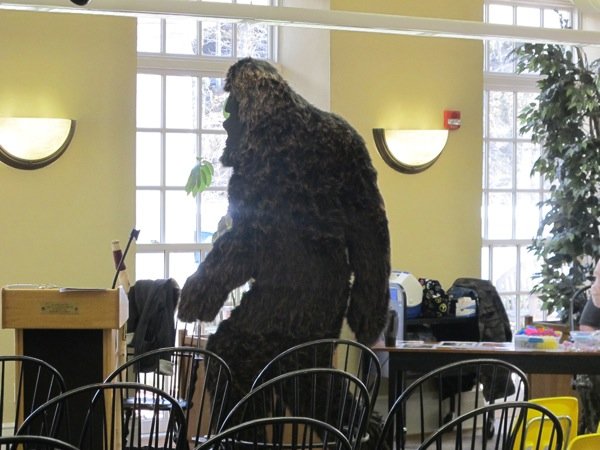 ---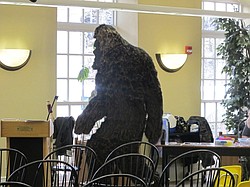 Photo
Neighbors | Tim Cleveland.This seven-foot tall figure of Bigfoot was on display during the Genoskwa Project event at Poland library.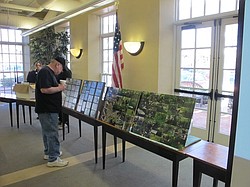 Photo
Neighbors | Tim Cleveland.An attendee looked at various pictures of Bigfoot during the Genoskwa Project event at Poland library.
By TIM CLEVELAND
On April 12, the Poland library hosted an event put on by the Genoskwa Project, a group devoted to proving the existence of Bigfoot. The four-hour event featured researchers sharing stories of sightings, displaying foot casts of Bigfoot, and photos, audio and video of Bigfoot evidence. A question and answer period followed the event.
"The word Genoskwa is a Native American term," Genoskwa Project co-founder Dan Baker said. "It means 'stonish giants.' We think the reason for that is because the Genoskwa would go and they would mud and dirt into their fur and when it dried, it would turn hard and make it look like stone. Genoskwa is supposed to be the larger, more aggressive cousin to Bigfoot. They're said to get 10 foot tall. There's a lot of Indian legend and lore about Genoskwa, primarily the Iroquois and the Seneca Indians. They say that they would attack their prey and they would kill their prey by viscously attacking them and twisting their heads until they decapitated them. There's also a legend that states that a band of Genoskwa would raid Indian villages and carry off victims and consume them."
Baker said he believes Genoskwa exist in the area.
"We believe there are some in Ohio," he said. "When Paul [Hayes, co-founder of the Genoskwa Project] had his sighting, we think that's what he may have seen."
The meeting room of the Poland library was filled to capacity with chairs. Baker said he expected those chairs to be filled.
"We're expecting quite a large turnout," he said. "The largest turnout we ever had was in Leetonia, Ohio. They actually had to close the doors and not let any more people in because they were standing in the halls."
Marty Shaffer of North Lima was one of the attendees of the event. She said she attended because of curiosity.
"I'm always interested in this, anything unusual," she said.