Mill Creek MetroParks Farm hosts Farm Animal Baby Shower

Photo
Neighbors | Tim Cleveland.Joe Schiavoni of Boardman held up his son Louie to play with baby goats at Mill Creek MetroParks Farm's Farm Animal Baby Shower.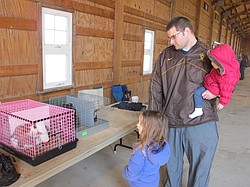 Photo
Neighbors | Tim Cleveland.A father and his two children looked at baby rabbits at Mill Creek MetroParks Farm's Farm Animal Baby Shower.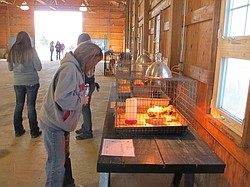 Photo
Neighbors | Tim Cleveland.A lady attending the Farm Animal Baby Shower checked out baby chicks at Mill Creek MetroParks Farm.
By TIM CLEVELAND
With the changing of the season to spring, Mill Creek MetroParks Farm, located at 7574 Columbiana-Canfield Road, hosted its annual Farm Animal Baby Shower to display the animals that had recently been born and hatched.
Farm employees expected 3,500 - 4,000 people to attend the baby shower on April 6.
"It's kind of the kickoff saying that the season here at the farm is now open," agriculture education programs manager Brenda Markley said. "It's spring time and what do you think of in the spring? You think of babies. That's what we're celebrating.
"We've been doing this for a little over 20 years. It was kind of a brainstorm idea of a couple folks in 1992 with that whole concept in mind of it's spring and there's babies and things come to life, so let's celebrate the babies."
The baby shower showcased a variety of sheeps, goats, pigs, ducks, turkeys, baby chicks, geese and rabbits.
"We've got things that have just hatched in the incubator to things up to five or six weeks of age, as well as things that are still expecting," Markley said.
Joe Schiavoni of Boardman brought his young son Louie to the baby shower, but he said Louie was more interested in other activities.
"My dad [Lou] is a commissioner out here and he told us about baby animals," Schiavoni said. "We figured he [Louie] would be excited to come down here and play with the animals and have some fun. He's more interested in running around on the gravel, but we're making progress."
Markley said the fact that some of the animals are bottle fed makes them perfect to interact with young children.
"We have lots of our little goats and some of our lamb friends are bottle babies," she said. "That's kind of a fascination because that makes them super-friendly so that's very helpful with the little kids because they're kind of naturally curious. The little baby chicks and ducks and everything just hatched and arrived this week. Because of their size, they're also quite an attraction for younger kids."