Library hosts monthly yarn event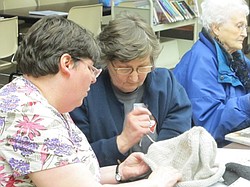 Photo
Neighbors | Tim Cleveland.Boardman library assistant supervisor Karen Saunders helped Boardman's Barbara Fleet with the hat she was making.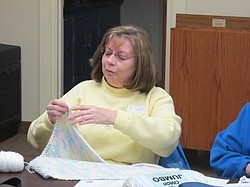 Photo
Neighbors | Tim Cleveland.Diane Limpach of Canfield displayed the baby blanket at Boardman library that she made.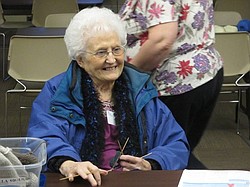 Photo
Neighbors | Tim Cleveland.Pearl Kocan of Poland made a pair of socks from yarn that she brought to Boardman library's yarn event March 27.
By TIM CLEVELAND
As it has once a month for quite a while, the Boardman library hosted its All About Yarn event on March 27, with five people attending.
The event is for anyone interested in yarn and crocheting. They meet as a group and display the projects they're working on, such as hats, socks or sweaters. If anyone has problems with their project they can get help. There are also displays of books on knitting and related subjects.
"I have a love of yarn and I wanted to share it with others," library assistant supervisor Karen Saunders said of how the event came to be. "There's a lot of people that like to come to the program. In the past we've had about 15. We've had a lot of interest in the program."
One of the attendees was Diane Limpach of Canfield, who knitted a baby blanket.
"One of the girls I'm working with is pregnant and she doesn't know the sex of the baby, so I was making a baby blanket that would be either for boys and girls," she said. "I knitted it but I don't know how to crochet, so I came here to learn how to put an edging in crochet."
Limpach said she has been working on the blanket for two weeks. She said that knitting helps relax her.
"It's very relaxing after a stressful day at work," she said.
Saunders said that people who knit or crochet can use the hobby to express their creative sides.
"Personal satisfaction," she said. "You have a chance to use your hands and create something. Yarn's a very forgiving medium. You can do a lot with yarn."