Published: Fri, April 25, 2014 @ 6:00 a.m.
Video Set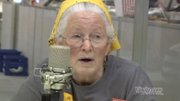 Civil rights activist Joan Mulholland joins Louie b. Free to discuss her efforts to promote equality.
Freedom Bus Rider and civil rights Icon Joan Mulholland visited Youngstown this week to talk about her experiences to the students of Mahoning Valley Sojourn to the Past. She'll visit Vindy Radio at 11:15 a.m. Friday with her son Loki Mulholland to give Vindy Radio listeners a peek into her past.