GM volunteers build home for Marine vet in Austintown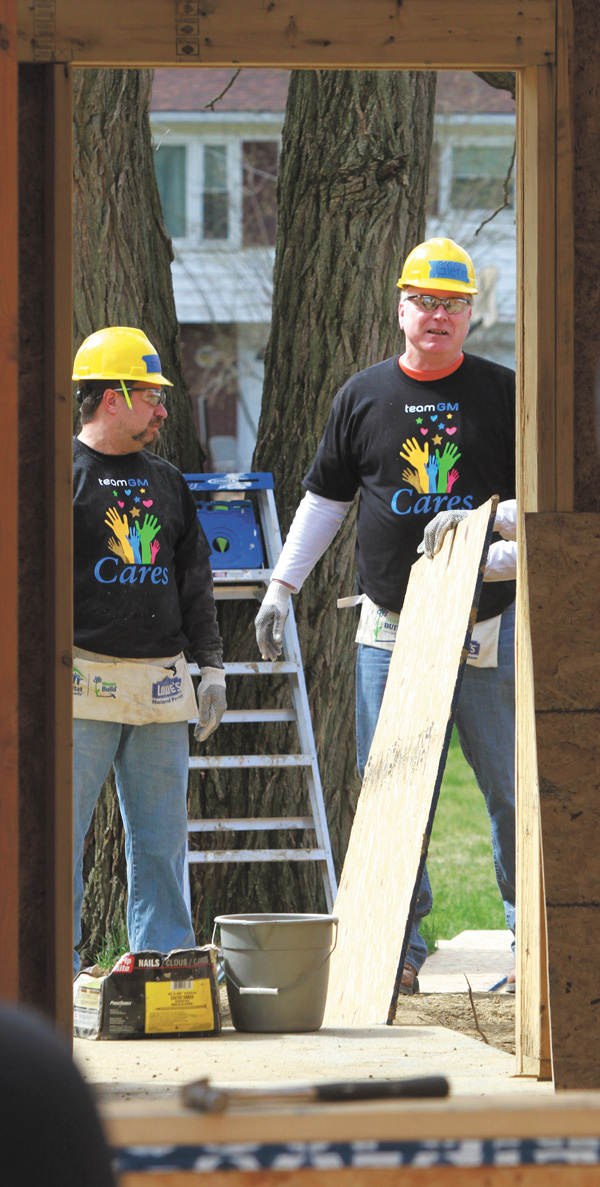 ---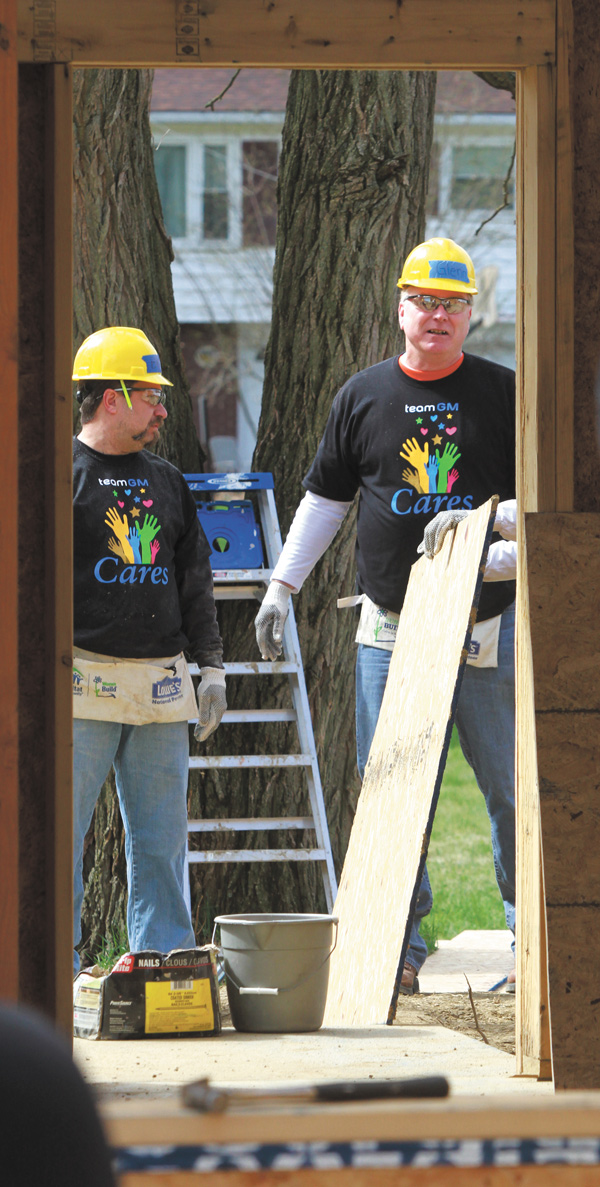 Photo
Bruce Thomas of Struthers, above left, and Glenn Johnson of Austintown, president of United Auto Workers Local 1112, move wood while volunteering their time to build the first Habitat for Humanity home in Austintown at 3889 New Road for Marine veteran James Skok. Volunteers were focused on getting the insulation installed and plywood sheets on the roof Thursday.
By Robert Connelly
rconnelly@vindy.com
AUSTINTOWN
The first Habitat for Humanity of Mahoning County home in Austintown has been a team effort.
The Habitat group, during a ceremony at 3889 New Road on Thursday, welcomed officials from General Motors and various levels of government.
The GM Foundation
donated $1.45 million earlier this year for 10 new-home builds and 15 neighborhood projects, including Habitat and the building of the New Road home.
Monica Craven, executive director of Mahoning County's Habitat for Humanity, told a crowd of more than 20 GM volunteers along with veterans and government officials about how the donation from GM came through at the right time. It was an "answer to our prayers. ... We weren't exactly sure how we were going to pay for this," she said.
Maria Manville of the GM Foundation said GM tries to help communities that are within one hour of a current plant. She said the automaker does that so it can draw volunteers from their plants to assist in the projects.
Marine Corps veteran James Skok was on hand for the event and has been helping with constructing the home that will be his once its finished. "I can't thank these guys enough. This is overwhelming," Skok said, continually thanking people for all the work that has been put into the first Habitat home in Austintown.
Skok served in the Marine Corps from 1992 to 2010 and injured his back, which now has a metal plate. He kept deflecting attention Thursday, always making sure to give credit to Habitat. "It's about Habitat. They do more than I ever will."
Glenn Johnson, president of United Auto Workers Local 1112, said, "We should be more than honored to give back. ... Today, we are trading our assembly lines for a hammer and nails."
Trustee Jim Davis talked about Austintown's patriotic atmosphere, citing the Fitch High School band among other topics. He spoke about Ron Bornguesser, a member of American Legion Post 301. Bornguesser originally approached Habitat three years ago wanting to do a veteran's home.
Craven said about 28 volunteers were on hand Thursday, set to work from 9:30 a.m. to 3:30 p.m. Of those, about 24 were from the Lordstown plant, she said. She said their focus Thursday was to work on the insulation of the home and putting sheets of plywood on the roof. Next week, Boak & Sons is set to put the shingles on the roof, which were donated by ABC Supply Co.
"I hope I can serve more in the future — something I can be effective at," Skok said, adding he has even considered going into politics.
Once construction is complete, Skok and his family will purchase the home from Habitat and receive a zero-percent-interest mortgage. The location was acquired by the Mahoning County Land Bank after its owner was delinquent on paying taxes.
Also on hand were Robert Morales, president of the United Auto Workers Local 1714; Tom Mock, spokesman for the Lordstown GM assembly plant; Pastor Mark Nelson of Austintown Community Church; Sarah Poulton from U.S. Rep. Bill Johnson's office, and Habitat workers.