Published: Thu, April 24, 2014 @ 12:00 a.m.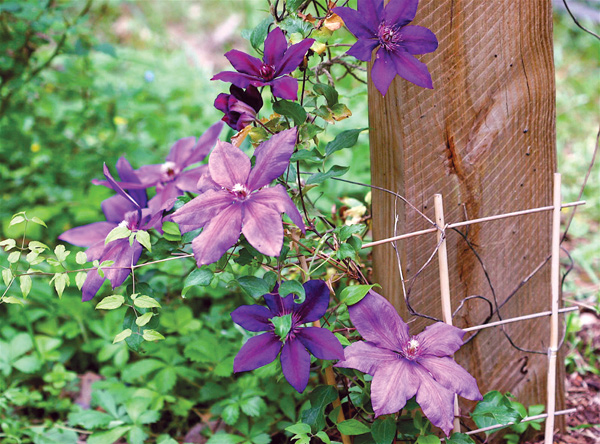 Photo
Clematis in New Market, Va. Clematis will flower more profusely and train more readily after being pruned.
By Dan Burns
OSU Ext. master gardener volunteer
Clematis vines are a favorite climber for beginners as well as masters of the garden. These wonderful plants are great for winding their way up lampposts, trellises, mailboxes or whatever support structure you may have in your garden.
Care should be taken when purchasing new clematis. First check the winter hardiness. Our area is in USDA Zone 5. Any plant belonging to Zone 6 or higher will most likely not survive our most frigid winters like the one we had this year.
Next, check how tall the vine will grow. Different varieties of clematis grow to different lengths. A clematis that grows to 6 to 8 feet would be just right for a 4-foot mailbox. One that can grow to 20 feet would be well-suited for a pergola or large arbor, yet this same plant would completely envelope an 8-foot pole lamp.
Finally, the environment in which to grow a clematis vine is important. Soil should be fertile, well-drained and with a pH of about 7.0. The roots like to be shaded and kept somewhat moist. Full sun is best, but a bit of dappled shade during the hottest part of the day may help flowers.
All clematis vines require some annual pruning to make them thrive but it is well worth the effort. The dizzying array of cultivars can be intimidating, but this can be simplified by dividing them by when they bloom. This will determine when and how they should be pruned. Groups are usually lettered A, B, C, but some catalogs use numbers 1, 2, 3. Knowing the groups will not only help you prune, but understand when to expect flowers.
Group A: Early flowering
Bloom in early spring, generally April or May, from buds produced the previous year. Prune these back soon after they bloom but before the end of July. This allows time for the plant to produce new growth and new buds for next year. Remove the shoots that have bloomed. If you wish you can hard prune to shape the plant or to form a good framework for new branches. Avoid removing the woody trunks.
Group B: Hybrid or large-flowered
Bloom mid-June on short stems from the previous season's growth and often again in late summer (the second blooms are not as large as the first). Prune in spring when you begin to see new growth. Remove dead, weak or damaged stems. Cut the remaining stems back to the top most pair of large, plump green buds. This cut is determined by the severity of the winter.
Group C: Late-blooming
Flower on the last 2 to 3 feet of the current year's growth. Usually begin to bloom in mid-June and continue into fall. This is the easiest group to prune. The goal is to eliminate last year's growth, leaving only the lowest buds. This encourages strong new growth.
For more, go to: http://go.osu.edu/clematis.