Nicklaus, Sorenstam happy to support local charity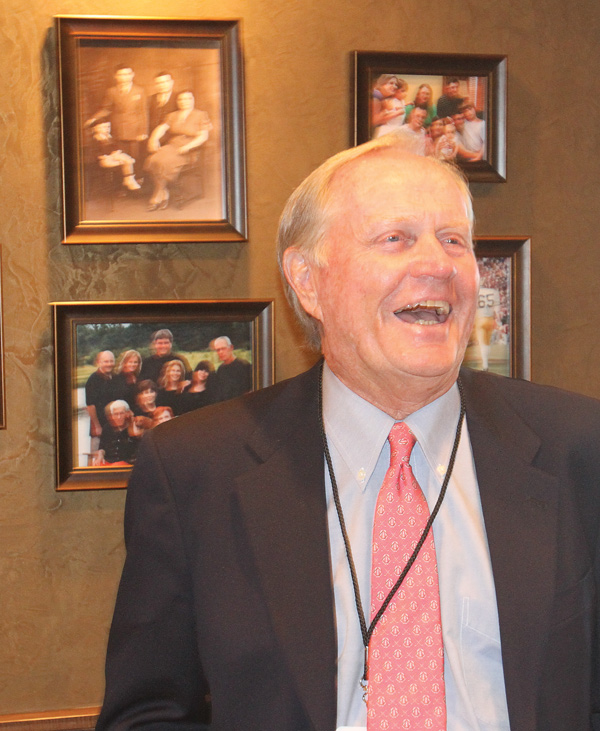 ---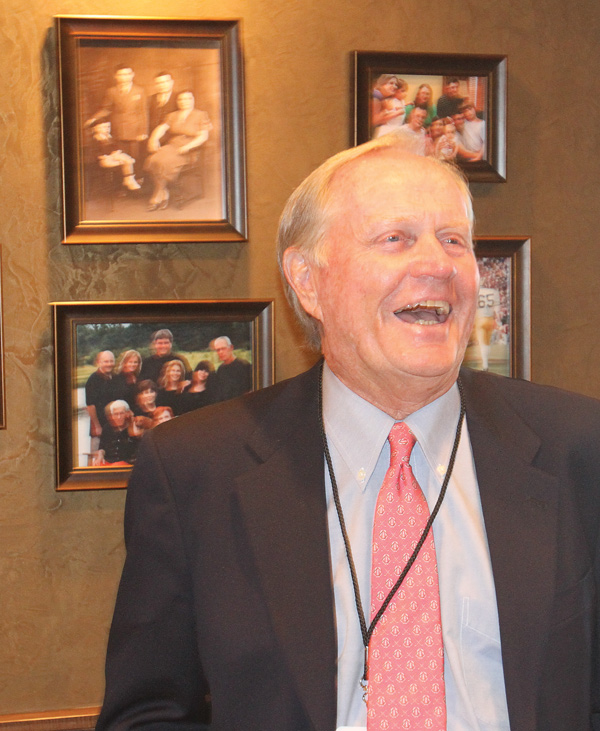 Photo
PGA legend Jack Nicklaus shares a lighter moment Wednesday during a dinner at The Lake Club in Poland. Nicklaus and LPGA great Annika Sorenstam were guest speakers at the event, which was a fundraiser for The United Way.
Nicklaus, Sorenstam happy to support local charity
POLAND
As Jack Nicklaus and Annika Sorenstam sat down next to each other prior to Wednesday evening's United Way of Youngstown and the Mahoning Valley fundraising event at The Lake Club, the two discussed how special it was for them to be able do this together.
"I'm here because of Annika, Mike [McGee] and Jerry [McGee], who I've played golf with for quite a while," Nicklaus said.
Sorenstam echoed his remarks.
"We're raising money for some good causes, so I'm happy to be here," she said. "And obviously to sit next to Mr. Nicklaus."
"You've made me feel old all day," Nicklaus said.
"What would you like me to call you?" Sorenstam asked.
"Please, Jack," he said with a laugh.
"So Jack and I are here," Sorenstam joked.
It was just that sort of personality and charisma that had local United Way president Bob Hannon so excited for this year's event.
Nicklaus grew up in Upper Arlington and since his retirement in 2005, has reconnected with his home state. He runs the Memorial Tournament in Dublin every year as part of the PGA Tour schedule.
It was his first time back in Youngstown since an amateur event he played in during the late 1950s, he said.
But Sorenstam has a much deeper connection to an area she's become quite familiar with over the years.
"It feels great to come back here," she said. "This is now kind of my second home in a way now that I'm part of the McGee family.
"I'm pretty familiar with it, but today we're coming here for different reasons."
On Wednesday the legendary golfers were the keynote speakers for the local United Way chapter's largest fundraising event of the year.
"It's more important that we have them in the community," said Lake Club owner Ed Muransky, who was instrumental in creating this year's event, according to Hannon.
"It's a great honor for the Lake Club and the fact that Annika and Jack and their families are here for our community, raising money for kids is just an amazing thing," Muransky said.
The event sold out almost immediately. Guests were given the chance to pose for pictures with the legends and get autographs from the golfers, who combined for 28 major championships and more than 100 career victories.
"When we first started playing golf, it wasn't about charity," Nicklaus said. "But golf has become about charity.
"I don't know whether you realize it or not, but the PGA raises more money each year than all other major sports combined for charity."
Just recently Nicklaus partnered with Sorenstam to help raise money for Nationwide Children's Hospital in Columbus. The two understand what the sport has allowed them to do now that they're no longer playing professionally.
"That, to me, speaks volumes — more than maybe just a golf shot, because that really shows the personality and the character," Sorenstam said. "And I think golf is a sport where that comes out more truly than other places, so yes, I have a lot of admiration [for Nicklaus]."
If Wednesday evening's attendance and excitement are any indication, golf isn't lacking support in northeastern Ohio.
Muransky hopes the interest in the event translates to continued interest in the game.
"People still love golf," Muransky said. "The dynamics have changed through the years and people can't golf as much, but people still want to golf, still love historical golf with Jack Nicklaus and Annika Sorenstam.
"The models changed through the years, but it's good that it's alive and well."