Fight to replace Hess looks to stretch into fall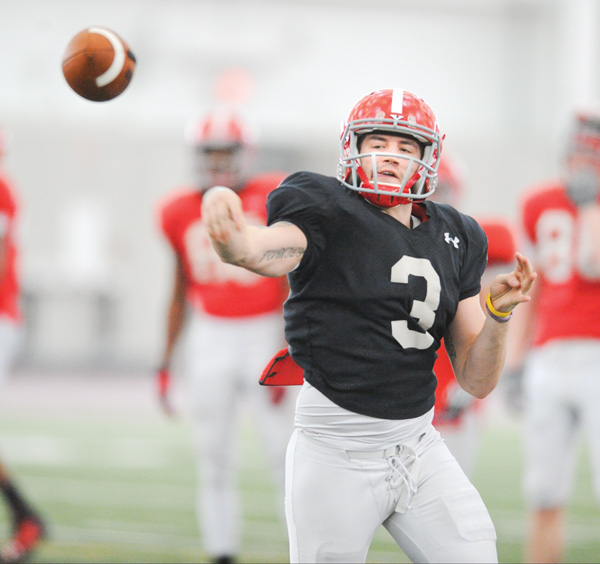 ---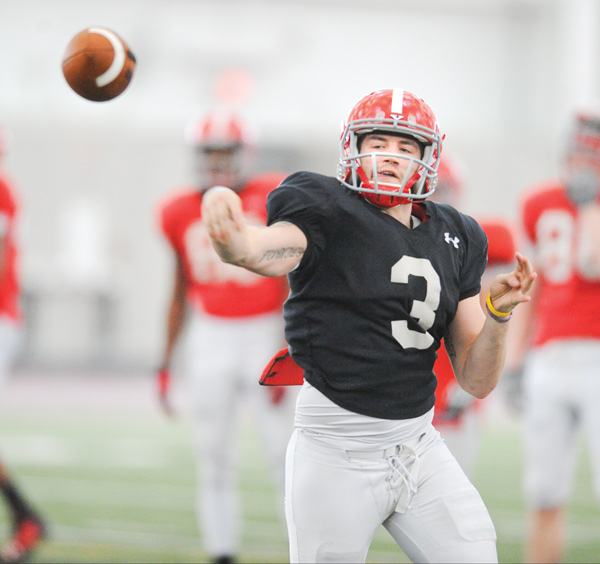 Photo
Junior quarterback Dante Nania throws a pass after scrambling out of the pocket during a spring practice at the WATTS. He's one of four quarterbacks vying for the starting job.
Fight to replace Hess looks to stretch into fall
By Joe Scalzo
YOUNGSTOWN
After losing an experienced starter to graduation, Youngstown State coach Eric Wolford and offensive coordinator Shane Montgomery had this to say about their quarterback situation:
"We're looking to find one of those guys to separate himself," Wolford said. "We're going to keep it wide open until someone significantly steps up."
"I don't think we'll come out of the spring [game] and name a starter," Montgomery said. "I'd be surprised if we would."
Here's the catch: Those quotes are from 2010.
Back then, a redshirt freshman named Kurt Hess beat out a junior named Marc Kanetsky for the starting job and kept it for four years, finishing with just about every career passing record in YSU history.
YSU is pitting a similar competition this spring, with redshirt freshman Ricky Davis trying to unseat the previous year's backup, junior Dante Nania. Sophomore Tanner Garry is also in the mix, with sophomore Nick Wargo supplying depth.
The Penguins haven't yet released the rosters for Friday's spring game, but this much is clear: Montgomery's approach — and his quotes — haven't changed much over the last four years.
"This is a long process and I don't think we're ready to name a starter right now," Montgomery said Tuesday. "I think it'll carry into the summer and through fall camp. If there's a point in fall camp where we feel like we need to name a starter, we'll do that at that time."
Regardless of who wins the job, the offense should look a little different than it did under Hess, who occasionally ran the option but was mostly a pocket passer. With this year's quarterbacks, the coaches can run more zone read and bootlegs, taking advantage of their athletic ability (while covering up for their inexperience).
"Kurt was athletic enough to hurt people with the run, whereas these guys might be able to break some long runs and give us an advantage there," Montgomery said. "As we put a game plan together going into fall camp, we'll be able to utilize their speed a little bit more."
Added Wolford, "Shoot, one day in practice, Ricky Davis ran away from [senior linebacker] Travis Williams. And Travis is pretty fast. That gives you a little idea of what kind of speed they have."
Nania has the most experience of the four candidates, completing 11 of 20 passes for 180 yards in four games last season while running for 35 yards on 11 carries. But he was also injury-prone, leaving the South Dakota game after getting tackled on a botched extra point, then lasting one quarter against North Dakota State before leaving with a separated shoulder.
And while Hess made every start of his four-year career, that's not typical. Montgomery, for instance, spent the 2009 season at Akron, where he was forced to play his third-string quarterback (a true freshman) by the sixth game.
"You've got to have three quarterbacks, no doubt about it," Wolford said. "That's just the way it is."
Montgomery is a little like former YSU coach Jim Tressel — he pleasantly answers questions, without revealing much of anything. He's also shielded his quarterbacks from the media this spring, marking the first time in the Wolford era that any players have been off-limits for interviews.
"A lot of it [the talk] going in was: Who's the starting quarterback going to be?" Montgomery said. "I told them I'm not worried about that right now as much as I am about them getting better every day.
"They've made strides and overall, I'm pretty pleased. I think the game is starting to slow down for them and they're getting a better grasp of what we're trying to do offensively."
He said something similar in 2010. If this year's competition goes as well as that one, YSU's offense will again be in good hands.