Published: Wed, April 23, 2014 @ 12:00 a.m.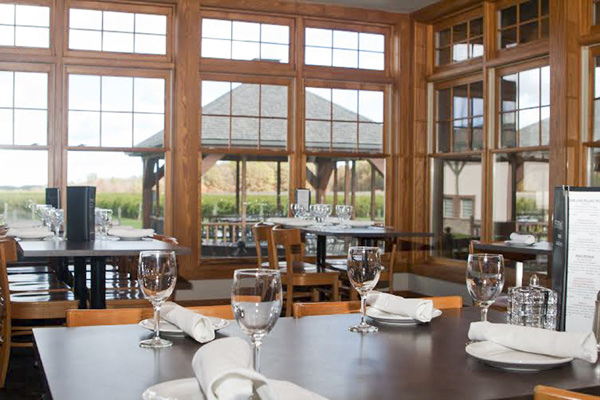 Photo
A room with a view at Ferrante Winery & Ristorante in Geneva
Save the Date
What: "Local Vino" Wine Tasting
Where: Rachel's Westchester in Austintown
When: 6:30 p.m. May 2
Reservations: Call Rachel's 330-799-1700 or www.myvalleyvino.com
By Brian Fry
I first visited Geneva and Northeast Ohio wine country as a student at Youngstown State University in 1992. In those days, there were only a few wineries up there, and most of them made the blush and sweet, fruity wines.
I remember sitting at a picnic table with friends sampling several different bottles from paper cups. I was disappointed that the wines were all pretty much the same and there was nothing even remotely dry in the selections, so I quickly reverted back to beer.
Fast forward to 2014, and my, how times have changed. The Grand River Valley wine region has grown and evolved into one of the most respected in the eastern half of the United States. The number of wineries and amount of acreage planted have grown steadily over the past two decades, and the varietals (types of wine) now include some excellent Chardonnay, Pinot Grigio, Riesling and Cabernet Franc.
The Ferrante Winery reputation reaches far beyond Northeast Ohio. Its wines have won awards as far away as San Francisco (6 medals) and the Finger Lakes (9 medals). Back home in Geneva, Ohio, Ferrante, won the Director's Choice Award in two of the three categories this year. Its 2012 Signature Series GRV Riesling won for best white, and the 2012 Vidal Blanc Ice Wine won for best specialty wine.
Although the Ferrante family has enjoyed much success over the past two decades, grape-growing in Northeast Ohio can be a real challenge. The record cold winter we just experienced has wreaked havoc on most area wineries. Nick Ferrante is staying optimistic, but the report from the vineyards isn't good.
"Most of the Midwest and east has sustained major damage to the grape crop and vines. The primary and secondary buds are 97 percent dead. Almost 90 percent of the third bud is dead. This means no grape crop in 2014."
Although Ferrante should have plenty of wine from the 2012 and 2013 vintages to keep local wine lovers happy, the real danger for the winery is that the vineyard is so damaged that they will have to essentially start over.
"We are waiting for bud break to determine bud damage and vine loss. If we get new growth from the graft union, the vines will live. If there is a major percentage (30 percent to 40 percent) of dead vines, the vineyard will have to be replanted."
While we wait to hear the final results from Mother Nature, we can enjoy some wonderful wines from Ferrante's portfolio.
2012 Signature Series Chardonnay
Tank fermented with partial barrel aging. Flavors of pear/melon and a buttery finish.
2012 Signature Series "Golden Bunches" Dry Riesling
Aromas and flavors of peach and citrus with an off-dry, long finish.
2012 Signature Series Cabernet Franc
Aromas and flavors of berry, dried fruits and spice. Fruit-forward style with aging in American & French barrels.