Anthony Farris exit interview
Video Set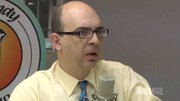 Attorney Anthony Farris, the former deputy law director of the city of Youngstown, joins Louie b. Free to discuss his latest career move to Cleveland.
Deputy Law Director Anthony Farris resigned from his post in the city, and his resignation is effective tomorrow, April 23.
Cleveland Heights City Council will vote to confirm Farris as law director. Farris visited us at Vindy Radio to give an official exit interview. He reflected on his time in Youngstown and what he hopes to accomplish in Cleveland. Check back here for videos from his visit.