Find a treasure at Angels for Animals garage sale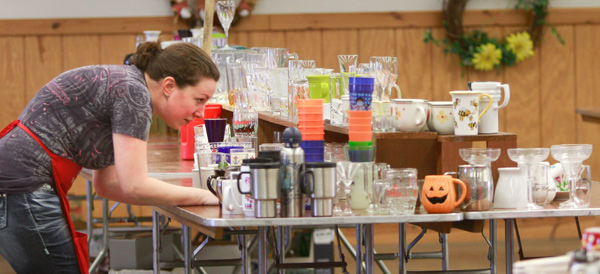 ---

Photo
Laura McCormick of Niles lines up an array of mugs, cups and glassware on one of the 400 tables in four buildings for this weekend's Angels for Angels gigantic garage sale. Between 150 and 200 volunteers prepare for the fundraiser set Friday through Sunday at the Canfield Fairgrounds.
By LINDA M. LINONIS
canfield
Mickey Cope Weaver described this weekend's Angels for Animals garage sale as a "giant treasure hunt."
The coordinator of the antiques and collectibles section in building No. 44 has volunteered with Angels for about 14 years. Here's why.
"The philosophy is excellent. It's about educating the public about spaying and neutering, fostering and rehoming animals," she said.
"There are all kinds of treasures to be found here," said Cope Weaver, who also coordinates a smaller Christmas antiques, collectibles and jewelry event. She is well-versed in the antiques field, having operated two estate stores.
Cope Weaver is among the 150 to 200 volunteers who give time from 9 a.m. to 9 p.m. Monday through Thursday to prepare for the gigantic Angels for Animals garage sale, which starts Friday. "Volunteers come and go but some stay the whole day," Less said.
Diane Less, Angels for Animals founder and director, said the sale will feature some 400 tables in four buildings plus food and raffle in the dining hall.
Dawn Fleming, a 20-year volunteer, does a "bit of everything" including greeting donors and directing them to the proper building. At the first stop, building No. 24, they get a slip listing what's offered in each building; the slip does double duty as a receipt for charitable tax purposes.
Less said Two Men and a Truck also picks up large donations.
"This is a different shopping experience," Less said, She noted there's a bargain barn for items priced 50 cents and less. "People can haggle there," she said, adding people like to dig through "stuff."
In 2013, the sale grossed $109,000 with net profit of $97,000. Almost 9,000 customers scoured the buildings for what they were looking for and items they didn't know they needed until they saw them. About 2,000 customers opted for the early-bird admission of $5 from 10 a.m. to noon Friday.
Less said the sale accounts for 10 percent of Angels' budget of $1 million. "Goods and services account for 50 percent and fundraisers and donations the other 50 percent," she said.
The money goes to what it takes to care for and adopt out 700 dogs and 1,300 cats in 2013, for example. "Even bigger is the spay and neuter program, that saw 8,500 dogs and cats in 2013," Less said.
It's that love of animals that has kept Lee Moran involved for 12 years. She oversees the sale.
"Angels does so much with the money they get," Moran said.
The pile of donated items isn't daunting to the volunteers, just a task to be tackled. "We have it organized so it moves along," Moran said.
Though she admitted as fast as they process items, more come in.
"People have big hearts to donate and we appreciate it so much."
Joanne Curran, who has volunteered since 1990, proposed the first sale.
"I had it at my house in Poland and we made $660," she recalled.
She added that philanthropist Mary Lariccia suggested calling it the "gigantic garage sale" and it has lived up to that description over the years.
From Curran's house it went to a banquet hall in Youngstown for about five years, then outgrew that site to prompt the move to the fairgrounds.
"The generosity of people who donate is a testament to Angels ... how they respect and appreciate the work they do," Curran said. "They [the public] know Angels is making a difference."
Pricing coordinator Mary Ann Karas worked as Angels' office manager for a decade and is now retired.
"We price the items to sell and so people don't have to think twice about spending the money," she said.
"This is a huge effort with a huge reward," Karas said of the project, applauding the dedication of the volunteers.
Sharyn Fees, a three-year volunteer, places the priced items in a shopping cart to move them to tables marked with signs for flowers, frames, dishes, health and beauty, office and more.
Bob Gaffney, also an animal lover, said volunteering with Angels is "good karma."
Leslie Tomko, a 15-year volunteer who has a home in Poland, flies up from Florida for the event. She coordinates linens.
"It's all for the animals," she said, voicing a sentiment shared by the volunteers.