YSU women's golf eyes league crown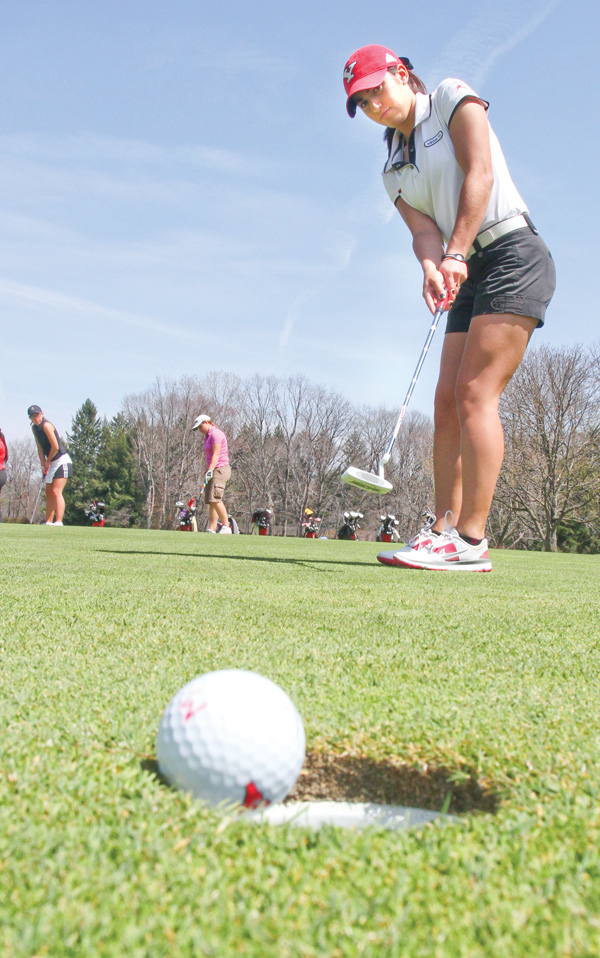 ---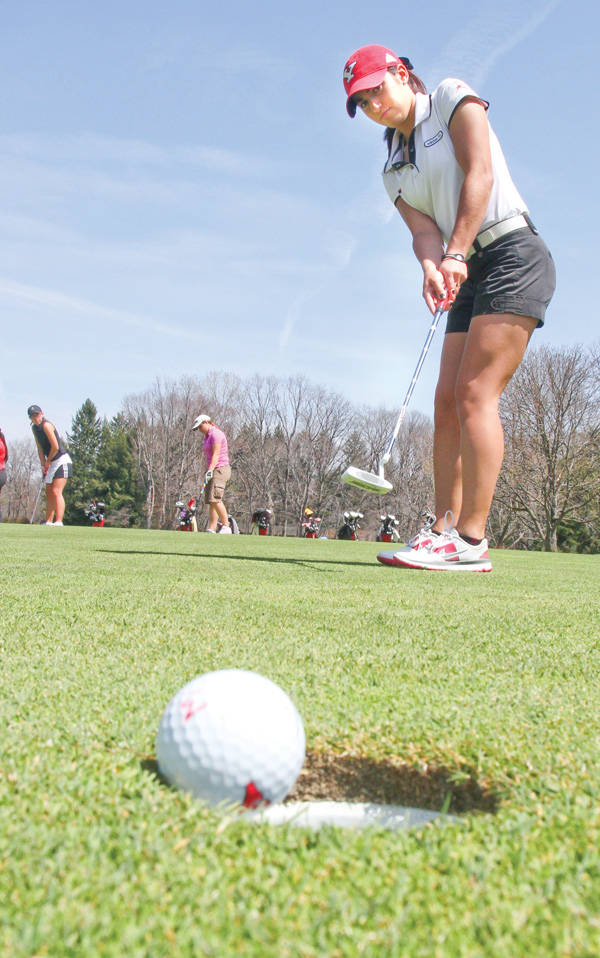 Photo
Youngstown State's Mia Barchetti, above, sinks a putt during practice Monday at Youngstown Country Club. Barchetti is one of five players who first-year-coach Nate Miklos is counting on to bring home the title from the Horizon League championship this weekend in Howey-in-the-Hills, Fla.
YSU women's golf team eyes first league crown since 2009
By Greg Gulas
The Youngstown State wom- en's golf team is on its way to Florida, hoping there's more than just sunshine on the horizon.
The Penguins will try to win their first conference title since 2009 at this weekend's Horizon League championship at Mission Inn Resort in Howey-in-the-Hills. The 54-hole tournament begins Thursday and ends Saturday.
First-year coach Nate Miklos is no stranger to Horizon League championships, having helped Cleveland State's men's team to three tournament titles as the Vikings' assistant coach.
He also led Loyola's women to the 2004 title while serving as head coach.
Miklos' assistant, Ann Ciavarella, was a member of YSU's last title.
"A big part of our success this year has been the help of assistant coach, Ann Ciavarella," he said. "She has been a tremendous asset to the program. She makes us even stronger as a team with her experience."
After two straight spring runner-up finishes, Miklos feels the Penguins are primed and determined to end their title draught.
"It's been a lot of fun this year and we're very excited about tournament week," he said. "We felt all along that this was a very talented team and it is great seeing them start to play well and believing more in themselves.
"We've had some great individual performances our last few events with Allison Mitzel and Emily Dixon each picking up tournament wins. More importantly, we've had great overall team play and we know that it's going to take a solid team effort to win the conference."
The five Penguins Miklos will be counting on include juniors Aislynn Merling and Mitzel; sophomores Emily Rohanna and Dixon and freshman Mia Barchetti.
Merling was the Penguins' top finisher in three of its five fall tournaments. So far this spring, the Penguins have finished second in two tournaments and third in four others.
"We've seen a lot of growth and improvement throughout the year and feel very confident about where we're at heading into the league championship," he said. "We've worked hard so that we can now work easy in this competition."
Merling enters tournament play with a team-best 78.3 average.
"Individually, I feel like I've had a solid spring but more importantly, everyone's game has gotten better," Merling said. "Our scores have improved yet we realize we're going to need an overall team effort if we expect to win this weekend," Merling noted.
Rohanna, who carries an 80.6 average, says YSU is one of four teams that can walk off with the title.
"If we play our game then all will be fine this weekend," she said "We've made progress since our first spring tournament in mid-March and in addition to us, I believe that Detroit, Oakland and Valparaiso are the other three teams to watch."
Mitzel feels as though the preparation is there; however, converting opportunities will decide the champion.
"Everyone is ready and as long as we play our game then we should be fine," Mitzel noted. "Like any other tournament you have to putt well and be in position off the tee. Those will also be the keys this weekend as well."
YSU finished the spring with a second-place finish at the seven-team St. Francis (PA) Red Flash Invitational as Dixon (75-73, 148) took medalist honors for her first collegiate win. Merling (79-75, 154) was sixth.
"We feed off of each other and when one player is struggling, then someone else is there to pick up the slack," Dixon stated. "We really feel like this could be the year because we're playing well at the right time and you need to be at your best when it is the league tournament."
Finishing the spring on a high note was important for Miklos.
"Our strong play continued last week at St. Francis as we finished runner-up a second consecutive week while our 303 tied for low final round," Miklos noted. "Emily [Dixon] won her first collegiate event and we counted all four scores in the 70s for the first time this year, including freshman Mia Barchetti's career low 77."
Barchetti is pleased with her improvement during her initial collegiate campaign.
"The weather was a challenge for everyone early on, but we're playing our best right now and that is exactly what we want heading into conference play," Barchetti said. "We trust each other and when you get along as a team as well as we do then it's 10 times more fun."
On Friday, YSU's tee-off is scheduled for 8:40 a.m. Follow live scoring at www.golfstat.com.