Canfield baseball holds off Fitch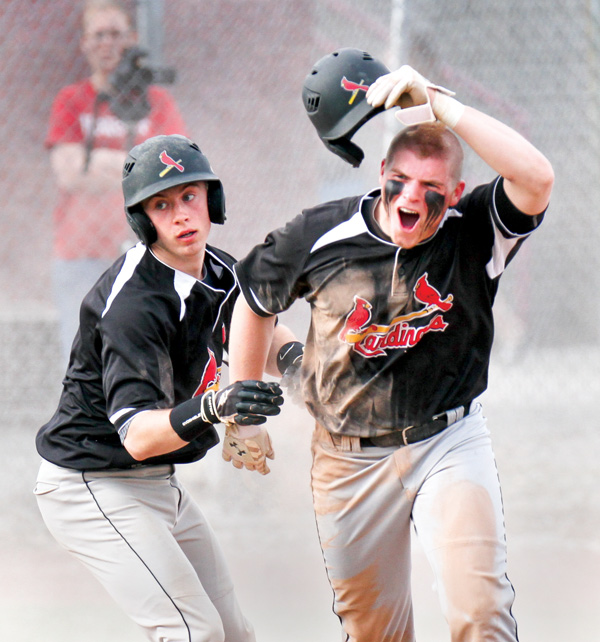 ---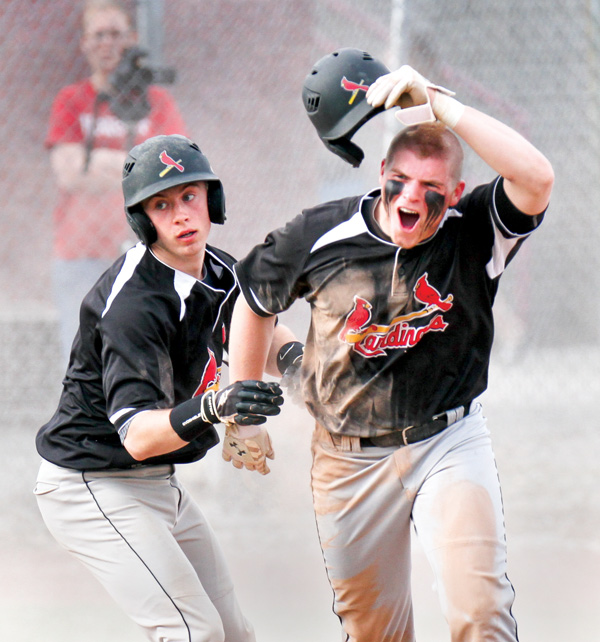 Photo
Canfield's Alec Buchenic, right, celebrates with teammate Carter Rhoads after scoring against Fitch during their game in Austintown. The Cardinals edged the Falcons, 4-3.
By Steve Wilaj
AUSTINTOWN
After watching his Cardinals jump out to a four-run first inning lead in Austintown on Monday, Canfield High baseball coach Matt Koenig began to flare up some bad memories as the Falcons slowly inched back.
"I've seen that movie before," Koenig said in reference to last season's 11-10 loss at Fitch. "Last year it was just about the same thing — we had a nice lead and ended up blowing it.
"But this year was a little different. We did just enough to win."
Defeating the Falcons 4-3 at Coppola Field, there was one play especially that put a stop to Koenig's dreaded rerun.
It came in the bottom of the fifth inning, as Canfield center fielder Colton Crissman threw out Fitch pinch runner Craig Tascione at the plate to preserve a one-run lead. Colton's toss followed a two-out single by Pat Gerberry, which came off Cardinals starting pitcher Jimmy Leone.
"That's really important for us, because in the past couple years, we haven't been able to make the big plays when we needed to make them," Leone said. "So that was just a perfect example of a big play at the right time and another player coming through. That's what our team is about."
The Cardinals defense also turned in what may have been the second-biggest play of the game in the bottom of the first.
Canfield (7-4) got its 4-0 lead in the top half on an RBI single by Alec Buchenic, a bases-loaded walk by Joey Machuga and a two-RBI single from Nick Luchansky — all the damage coming off Falcons starter Trent Collins.
Fitch then loaded the bases with no outs before Cardinals first baseman Alec Hammond dove and snared the scorching line drive of Zack Miller. He stepped on first to double up Scott Pierce and Leone forced Phil Socha to fly out to end the inning.
"That's was another great defensive play," Koenig said. "If he doesn't get that, that's at least two runs, possibly three because that thing was blistered."
Still, the Falcons (4-6) answered with three second-inning runs. Shane Vitullo hit a two-run double while Nick Heitzer followed with an RBI single.
But that would be it for Fitch offensively, as Leone battled his way through six strong innings before Joe Billec worked a scoreless seventh to earn the save.
"We couldn't really capitalize, but that's baseball," Fitch coach Wally Ford said. "Sometimes you hit it right on the button right at somebody and we had a couple of those tonight."
Leone picked up the gutsy victory as he allowed three earned runs on nine hits and four walks while striking out three.
"I don't overpower people, so the key for me was to throw strikes and let them hit the ball," he said. "I have tons of trust in our defense this year and they had a great showing tonight."
Meanwhile, Collins took the loss. Although he struck out 10 batters in four innings, the senior walked five and hit two. Three walks came in the first inning before he could settle in.
"It was all or nothing with him tonight," Ford said. "He's had some difficulty getting out of that first inning, so we gotta try to figure that one out. Once he settled down and got in a rhythm, he did a really nice job."