Jenna Viets, Matthew Oles Jr. set June wedding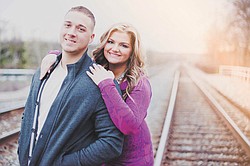 Photo
Matthew Oles Jr. and Jenna L. Viets
Jenna Lynne Viets and Matthew Oles Jr., are engaged, Judi Viets, mother of the bride-to-be, is announcing.
Miss Viets also is the daughter of the late Darrell Viets. The prospective groom is the son of Lisa and Matthew Oles Sr.
The couple and their parents all reside in Austintown.
The wedding is planned for 5:30 p.m. June 20 at Avion on the Water Banquet Center in Canfield, where the reception will follow. Invitations are being extended.
Miss Viets, a cosmetology graduate of Casal Aveda Institute, is a stylist and instructor for Salon at Creekside in Boardman and Raphael's Beauty School in Niles.
Mr. Oles graduated from Youngstown State University with degrees in political science and history. He is a line worker at General Motors in Lordstown.