---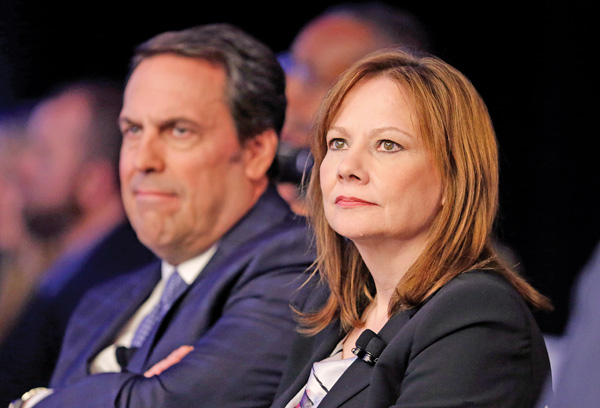 Photo
Mary Barra, CEO of General Motors, and Mark Reuss, executive vice president of Global Product Development for GM and president of GM America, attend the New York International Auto Show.
YOUNGSTOWN
General Motors used its platform at the year's last major auto show to focus on the future as the company tries to distance itself from a highly publicized recall that dominated the first part of the year.
The New York International Auto Show, which opened to the public Saturday, is generally seen as a final opportunity for automakers to showcase new vehicles and announce big company news.
"It's your last chance as an automaker to announce important near-term development," said Karl Brauer, senior analyst with car- buying website Kelley Blue Book (kbb.com).
And GM seized on the media exposure last week with the unveiling of the 2015 Chevrolet Cruze.
The Cruze's exterior styling cues, inspired by the new Impala and restyled 2014 Malibu, will provide a more-cohesive look across Chevrolet's sedan range, while more intuitive controls will update the Cruze's interior, GM said in an April 13 statement.
The Cruze's face-lift reflects the automaker's emergence as a major force in the competitive compact-car segment of the auto industry, a marked difference from the past.
Updated standard technology features — including Apple Siri integration and OnStar 4G LTE with available Wi-Fi hot spot — were a hit both in New York and locally, with dealers who have seen the Cruze's popularity firsthand.
"It's an upgrade to one of the best-selling cars in America," said Barry Gonis, general manager of Spitzer Chevrolet in North Jackson.
"It's definitely going to be a step up," he said.
Demand for the Cruze is high, and GM has reported consistent year-over-year gains in the vehicle's sales, including a 14 percent bump in March.
Meanwhile, GM has continued offering incentives to bolster the car's competitive edge as it goes up against the popular Toyota Corolla, Honda Civic and Ford Focus. The Cruze hasn't received a full remodel since it went into production in 2010.
"The sales rate is up, and what that does is generate more product," said Doug Sweeney, president of Sweeney Chevrolet in Boardman, adding that his dealership has 171 Cruzes stocked, with 55 on the line.
At Spitzer Chevrolet, the Cruze inventory has doubled from about 50 to nearly 100 recently, Gonis said.
Officials at the GM plant in Lordstown tentatively are looking to begin production on the 2015 Cruze in the fall, a spokesman confirmed last week.
GM also announced new accolades for both the Cruze and Chevrolet as readers of The Diesel Driver last week awarded the vehicle and its maker with diesel car and diesel manufacturer of the year honors.
Over the weekend, the company followed Thursday's announcement that it delivered 2.4 million cars worldwide with the news Sunday that it plans to invest $12 billion in China to increase its production capacity there to 5 million units by 2017.
Deliveries in China increased 13 percent to a record 919,114 units in the first three months of the year, GM said.
GM has maintained a presence in China for the past 50 years, but it is now looking to key into the fastest-growing auto market in the world, Brauer said.
"They basically have a really big base to start with," but the company has to develop its Chinese production and sales numbers quickly to keep pace with Volkwagen, which recorded the best sales total there in 2013, Brauer said.
Despite all the positive press, GM still faces the fallout of the investigation into a 2.6 million-car recall that revealed the company failed to fix a faulty ignition switch for a decade. The defect has been linked to at least 13 deaths.
In the wake of a congressional inquiry into the matter, GM CEO Mary Barra last week announced a new safety division to oversee product development. But lawmakers, who accused the company of a culture of cover-up and criminal negligence, will want more answers than Barra could provide before House and Senate committees earlier this month, Brauer said.
The company has begun to replace the parts, but it faces the twofold "logistical challenge" of first locating the owners of the older-model cars and then sifting through the sheer number affected vehicles, he said.
Brauer said, with a recall of this magnitude, automakers generally aim for a 60 percent to 70 percent participation rate.
Gonis and Sweeney said their dealerships have been steadily making repairs and complying with a GM order to supply loaner vehicles to owners of recalled cars who feel unsafe in their vehicles.
Gonis said the overall process has been "pretty smooth," but he still would like to see parts come into his dealership more quickly.
"When it's this many [recalled cars] all over the country, we've got to take what we can get," he said.
Most analysts agree that the recall won't have much impact GM's long-term sales figures. While it may put off current owners and those in the market for used cars, all indications are that new buyers are undeterred, Brauer said.
"The quality of the new product — and the Cruze is an example — only confirms" the assumption, he said. "My sense is that it's already not a huge deal for new-car shoppers."
More like this from vindy.com