Church recycles as a way of earth-friendly life
Recycle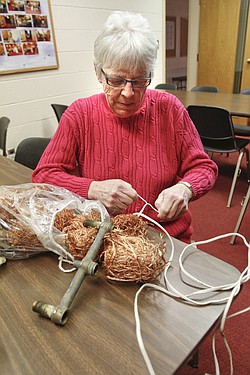 Video
SEBRING
For a small church here, recycling is central to its mission of good stewardship of God's green earth.
"We believe that God created the earth and it is our responsibility to take care of it," said Kimberly Lewis of Smith Township, a parishioner at Trinity Lutheran Church and a member of its environmental stewardship committee.
The church pays more than lip service to environmental stewardship, practicing what it preaches not only on Earth Day, which is today, but also in its daily activities.
Having launched its environmental stewardship program six years ago, the church won the U.S. Environmental Protection Agency's WasteWise Gold Achievement Award in 2010, and it continues its intensive waste reduction, reuse and recycling efforts.
The church annually diverts at least 3,000 pounds of material from the solid-waste stream, Lewis said.
"People have found out in the church that if each person brings in something little, all of this becomes a major thing," Dr. Kristine Shoemaker of Beloit, a retired dentist and lay minister, said of the congregation, which has 50 active members.
"I am so thrilled to be a member of a church that does so much to help our precious planet," said Lewis, who also is an environmental educator at Mahoning County's recycling division.
Because of its waste-reduction efforts, the church has been able to convert to a pay-as-you-throw garbage-disposal system, under which it pays its trash hauler by the bag.
Using this system, the church saves $176 annually, compared with what it would pay for unlimited disposal.
Trinity Lutheran features a variety of waste reduction, materials reuse and recycling activities within its church that carry over into community activities and into the personal habits of its parishioners.
"Many of our church members are now avid recyclers themselves," Shoemaker said.
Some help their elderly neighbors by taking their recyclables to community drop-off points.
Many have reduced household waste to the point where they have converted to pay-as-you-throw trash collection for their homes.
In a materials-exchange program, parishioners bring items they no longer need to a sharing table at the church, from which other parishioners can obtain the items for free.
The church also acts as a recycling drop-off site for its parishioners, who bring in plastic containers, cans, glass bottles and jars, newspapers, magazines, bottle caps, greeting cards and cellphones.
The plastic bottles and food cans are then taken to community recycling drop-off sites.
The bottle caps are delivered to Damascus Elementary School, whose students participate in the Aveda bottle-cap recycling program.
The greeting cards go to a local nursing home to be made into place mats.
Beverage cans are divided among local schools that participate in Mahoning County's Cash for Cans contest.
Cellphones go to the Cell Phones for Soldiers program to benefit those serving in the armed forces.
One church member deconstructs appliances and separates and recycles their components, Shoemaker said.
The church sells ornamental glass bottles to a local flea market to raise money.
Glass jars become soup containers in the church's annual soup sale.
Parishioners bring empty egg cartons to the church for reuse by local egg-producing farms.
Trinity participates in Sebring's annual three-day communitywide yard sale in August, thereby providing reusable merchandise to area residents and raising money for church projects.
All paper used by the church is recycled, whether it takes the form of paper towels and napkins or printed materials.
"We started using more earth-friendly cleaning products" to clean the church, such as vinegar and water, partly because some church members are allergic to some cleaning chemicals, Shoemaker said.
Every April, the church has a service recognizing Earth Day. This year's service will be at 10 a.m. Sunday.
"All of the Scripture focuses on the earth and creation and our stewardship," Lewis said.
The celebration includes skits performed by church members, with themes pertaining to recycling, litter prevention, composting and other environmental matters.
At this service, the church gives its members a recycled item to take home, such as the recycled paper products or vinyl records made into bowls, which it issued in previous years. This year, it will give away bird feeders made from recycled plastic bottles.